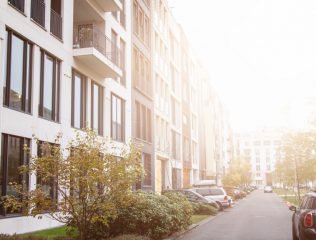 A London council is taking matters into its own hands in tackling the capital's housing shortage, by buying a block of flats that it will rent out to private tenants at below market rates.
It is thought to be the first initiative of its kind in the country, brought by the East London council of Barking and Dagenham. The council bought 100% of a private development from construction firm Bouygues and will put 144 new homes onto the market for renters in October.
The development includes social housing, but local councillors decided to try and address the wider housing shortage, which has been described as the worst in 30 years.
Prospective tenants earning under £66,000 per year are eligible for a one or two-bedroom property, while those seeking a three or four-bed home must earn less than £80,000.
A council spokesperson says: "It is an innovative way of trying to do something for generation rent."
They deny any social cleansing or attempts to attract more middle class renters to the borough, which is mostly occupied by council tenants.
The spokesperson explains: "It is about aspirational workers, it is certainly not gentrification. It's about young professionals who need a decent home but can't afford the market rents which have rocketed in London."1
Already, 1,000 people have shown interest in the 144 homes, reports Hakeem Osinaike, the Divisional Director of Housing Management at the council.
Barking and Dagenham council members hope that other London councils follow suit.
Previously, councils have tried to tackle the housing shortage by paying private landlords to take council tenants, but this is the first instance where a council has become a private landlord itself.
The purchase of the Abbey Road block cost the council £45m, which was funded through a £130m credit facility, secured from the European Investment Bank at below market interest rates.
It has formed an independent company, Barking and Dagenham Reside, which will market and manage the flats on the council's behalf.
The properties will be rented out at 80% of the market rent, still making a profit for the council, which will go back into more housing.
Two-bed flats will be priced at £940 per month, almost half of the cost in neighbouring boroughs, such as Hackney, where the median rent for a two-bed property is £1,700.
Divisional Director of Regeneration at Barking and Dagenham council, Jeremy Grind, says: "This isn't just about housing key workers, such as teachers and nurses, it's about housing the baristas, waiters and waitresses – people who can't afford to get on the housing ladder or get access to a council home."1
Councillor Saima Ashraf adds: "It's a win-win for our council, taxpayers, residents and generation rent."1 
The council hopes to add 1,000 flats to its private rental scheme over the next three years.
Councillor Cameron Geddes explains the need for the scheme: "We came up with the idea for Barking and Dagenham Reside because we needed to think of a creative way to build new housing in the middle of an economic downturn."1
The Conservative housing spokesperson on the Greater London Assembly, Andrew Boff, said the scheme is one of the most innovative in the country, regarding council financing and housing.
He said the development is "fantastic" and could be part of a solution to the chronic shortage of housing in Britain.1 
1 http://www.theguardian.com/money/2015/sep/16/london-council-sets-up-as-private-landlord