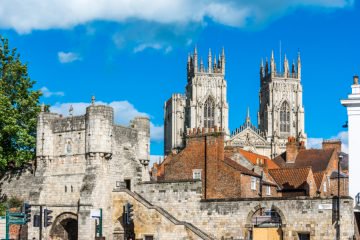 The buy-to-let boom has been brought to the forefront of property news recently, as landlords have been hit with a reduction in tax relief on their mortgages.
But some buy-to-let investors have benefitted from buying in the past 12 months, in areas with reasonable house prices and soaring rents. This puts London out of the picture, as house price growth has overwhelmed yields.
Cities/towns with the highest growth in rent prices
| | | |
| --- | --- | --- |
| Position | City/town | Annual rent growth |
| 1 | York | 26% |
| 2 | Edinburgh | 19% |
| 3 | Oxford | 18% |
| 4 | Milton Keynes | 15% |
| 5 | Coventry | 14% |
Property group CBRE has studied the 29 most economically significant towns and cities in the UK, and here are the top five where property investors purchased last year:
York
York is full of medieval property, Georgian town houses and cobbled streets. But despite this picturesque landscape, house prices are 10% lower than the national average. Buy-to-let investors can therefore pick up a bargain and make substantial yields.
Rent prices in the city rose by 26% in the last year, according to CBRE. Students going to the universities and young professionals are driving up demand, and subsequently rents, to an average of £901 per month.
Edinburgh
Edinburgh's arts festival and film festival contribute £261m to the Scottish economy every year, and the city has expected GDP growth of 30% in the next ten years, making it a thriving area.
Earnings are 20% higher than the UK average and landlords may be attracted to the growing luxury development quarter in central Edinburgh.
Oxford 
Various industries, including motor manufacture and bioscience, bring workers into Oxford. These professionals often want to rent before they buy. The city has also seen a rise in wealthy foreign students, who also look for high quality rental homes.
However, investors should be aware that house prices in Oxford have soared. Additionally, the surge in potential tenants is expected to ease.
Milton Keynes 
The town of Milton Keynes is the fastest growing urban area in Europe. Its growing population has caused a huge demand for housing, which has driven up rental prices by much more than the national average of 4%.
Furthermore, Milton Keynes is becoming a popular choice for commuters, with trains to Euston and Clapham Junction.
Coventry
The birthplace of St George has two big universities – Coventry and Warwick. The large student population has one of the highest rates of house sales in the country, as tenants become buyers.
Most cities have a gap between its cheapest and most expensive streets, but Coventry's housing wealth divide is particularly marked.
The top 5 buy-to-let hotspots
| | | | | | | |
| --- | --- | --- | --- | --- | --- | --- |
| City/town | Average rent per month | Average house price growth in past year | Average house price | Population growth by 2020 | Population in 2020 | Average age of resident |
| York | £901 | 3% | £228,907 | 3% | 210,263 | 39.5 years |
| Edinburgh | £942 | 21% | £260,647 | 8% | 525,341 | 38.5 years |
| Oxford | £1,459 | 16% | £431,143 | -1.7% | 149,867 | 34.3 years |
| Milton Keynes | £949 | 3% | £237,399 | 8% | 282,131 | 36.1 years |
| Coventry | £677 | 0% | £162,788 | 7% | 355,990 | 36.8 years |