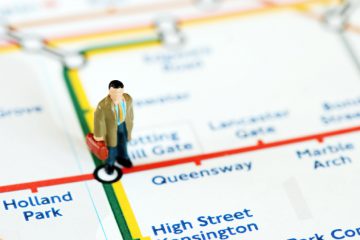 Londoners are being pushed further out of the capital's centre as house prices becoming increasingly more expensive. Zone 4 is now the best option for those priced out of central London, with the average house price in this area at £421,000.
In zone 3, the average is £488,000 and jumps to a huge £723,000 in zone 2. However, the typical train journey to central London from zone 4 is just 33 minutes, with some journeys only taking 15 minutes.
Homes closer to the centre are immediately pricier, with the average price in Morden, on the southern end of the Northern line, at £368,726, but in South Wimbledon, just one stop earlier and on the zone 3/4 border, it is £641,164.
Zone 4 is between the inner city and suburbs, a ring marked by Greenford in the west, Mill Hill in the north, Upney in the east and Morden in the south. Ten of the cheapest areas around zone 4 Tube stations have average prices under £301,000.
Property consultant CBRE has devised a map that shows the stops buyers should be looking for: http://www.cbreresidential.com/sites/uk-residential/files/Zone%204%20tube%20map.pdf
Head of Residential Research at CBRE, Jennet Siebrits, says: "Some areas are significantly under-valued given the relatively quick commute times to the centre – they're easy to get to work from and have potential for price growth."1
However, some parts of zone 4 are becoming more expensive thanks to quick commutes. Homes in Bounds Green, Wanstead and South Woodford, with 25-minute journey times, are priced between £440,000-£450,000.
1 http://www.homesandproperty.co.uk/property-news/new-homes/where-buy-zone-4-best-value-areas-are-still-tipped-house-price-growth