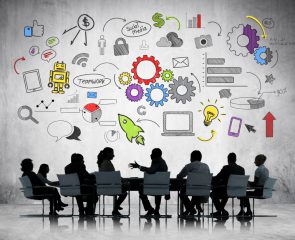 Silicon Roundabout, on Old Street, London, is filled with around 7,000 tech firms, making it a hotspot for digital entrepreneurs in the capital.
Estate agent Stirling Ackroyd says that it's the location that makes the hub so successful, as it is on the edge of some of London's most well connected areas whilst remaining affordable.
Although the average house price in the outskirts of the area has hit £700,000, starter homes can still be found near nearby Tube stations for less than half this figure. One-bedroom flats sell for an average
of £373,000.
One of these hotspots is Stratford, which will benefit from the Crossrail service from 2018, and Clapton, where new cafes and shops are attracting families to the quirky neighbourhood.
House prices in Hackney and Dalston have seen huge price growth in the last few years, but good value one-bed properties can still be found for under £300,000 if you're willing to opt for ex-local authority flats, rather than Georgian terraces and stylish warehouse conversions.
Managing Director of Stirling Ackroyd, Andrew Bridges, says: "A distance of five miles between peak property prices in one part of London and the heart of innovation further east is no accident.
"Nimble start-ups and a young, innovative population both flourish best in a dense but comparatively affordable environment.
"Start-ups are shifting the sands of London property as their employees start to trace a different Tube line home. And in even greater numbers, a bigger pool of tenants is attracted by the wider appeal of these new cultural hubs in eastern London. That younger, creative population then feeds the flames again."1 
A fine example is the City's latest co-working office, Alphabeta, where the front archway opens onto Finsbury Square and the back door leads to Shoreditch, joining together tech financiers and creatives.
The highlight of the new building is its cycling ramp that allows those riding to work to enter straight into the building's storage and changing facilities without stopping. The office also boasts rooftop bars and chill-out zones.
Alphabeta's architect, Studio RHE's Dickon Hayward, says: "Cycling is an increasingly popular means of transport within the city and we wanted to embrace it as an important component in workplace design.
"From the atrium you can see glimpses of descending cyclists, adding activity within the building and emphasising the importance of cycling within the building's values."1 
1 http://www.homesandproperty.co.uk/property-news/news/four-homes-hotspots-tech-savvy-londoners