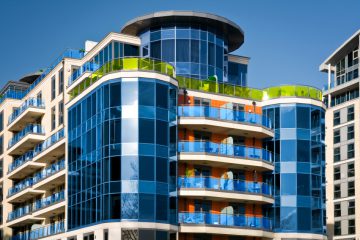 A 90-foot long pool that appears to float in the air is the latest addition to Nine Elms, London's new riverside district beside the Battersea Power Station development.
The glass-encased outdoor swimming pool is suspended ten storeys high, providing a bridge between two luxury apartment blocks that have communal rooftop terraces. It is the latest architectural masterpiece at Nine Elms.
The so-called sky pool at Embassy Gardens, a 2,000-home block being built alongside the new American embassy, has been described as a world first.
Completely transparent, the pool is 90 feet long and 19 feet wide, almost ten feet deep with a water depth of around four feet. It is the brainchild of Sean Mulryan, the chairman and founder of developer Ballymore. Next month, the firm will uncover Legacy Buildings, the second phase of the scheme.
Using eight-inch thick glass, the pool seems to float in the air, resembling a huge aquarium.
The sky pool will be available to private residents, who can swim from one building to the other, enjoying stunning views over Westminster. The linked sky deck at the top of the two complexes will include a summer bar, sun loungers, a spa and an orangery.
Mulryan comments: "We set out to create places and spaces that are more than just bricks and mortar. The pool is testimony to this philosophy and gives the development a unique character."1
Apartments go on sale in September and are priced from £602,000.
1 http://www.homesandproperty.co.uk/luxury/property/its-world-first-nine-elms-sky-pool-suspended-10-storeys-high-between-two-apartment-blocks