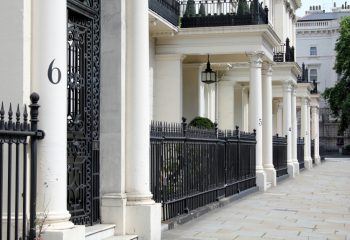 London has overtaken New York City and every other major city in the world on prices and sales in the prime property market in the last five years, according to a recent report by Knight Frank.
In London, there were 2,147 luxury home sales in the $2m-$5m price range in 2009, which put the capital behind Hong Kong but roughly on par with NYC. However, by 2014, sales in this category in London had soared to 6,250 – double the number witnessed in Manhattan and tripe the amount in Hong Kong, Singapore and Sydney.
In the ultra-prime market – the homes selling for more than $5m (around £3m) – London has also surpassed Manhattan.
Knight Frank found that 1,638 properties were sold in London for over $5m in 2014, compared to 796 in Manhattan, 258 in Sydney and just 21 in Los Angeles.
The upmarket estate agent reports that London and NYC are constantly fighting for position as the world's leader in the prime property market, but London has taken the top spot.
Head of Research at Knight Frank, Liam Bailey, comments: "These two cities continue to lead development trends in terms of design, pricing and iconic architecture."1
He expects London's dominance to remain for the next ten years, although NYC could take over in 2024.
Prime London house prices have increased faster than any major city in the past decade, including those in East Asia. The average Mayfair or Holland Park apartment price rose by a huge 138% since 2004. Hong Kong followed with 93% price growth, New York at 78% and Singapore at 69%.
The increase in London prices arrives despite a fairly high supply of new build luxury apartments compared with overseas cities.
In Hong Kong and NYC, residential completions were lower than in London in 2014, as the English capital experiences a boom in tower building.
London's traditional, low-rise skyline is being replaced by soaring residential skyscrapers, with 264 buildings of more than 20 storeys either proposed, approved or under construction in Greater London.
However, NYC is fighting back. It's new 1,396 foot tower, 432 Park Avenue, is nearing completion, making it the tallest residential building in the world and the third highest in the city. The building's penthouse was allegedly sold to a Saudi Arabian buyer for $95m in 2013.
In total, there are 100 new residential skyscrapers in Manhattan, with 6,500 condos for sale. Knight Frank reports that this represents a "staggering inventory"1 of $30 billion worth of property.
Similarly to the situation being observed in London, New Yorkers are complaining that foreign buyers are purchasing luxury apartments that are then left empty, pushing up prices and making housing unaffordable for ordinary locals, as rent prices are also inflated.
Knight Frank believes that one reason London has surpassed NYC is not just its attractiveness to overseas buyers, but a rising population and workforce, particularly in the finance and IT industries.
The number of Londoners working in finance, insurance, IT and telecoms increased from 1.28m to 1.56m between 2009-14, surpassing the 1.1m employed in the same sectors in NYC and 0.8m in Hong Kong.
However, Knight Frank says the global city to watch is Miami.
Despite becoming the repossession capital of the USA during the financial crisis, the city's housing market has started to boom again recently. Prices for prime property have surged by 91% in the last five years.
1 http://www.theguardian.com/money/2015/oct/06/london-outstrips-new-york-to-top-global-prime-property-league