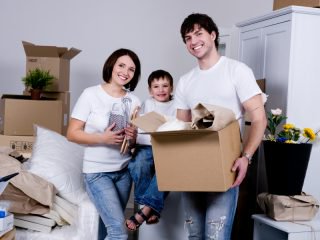 Many Londoners living in their starter homes are no longer trapped in negative equity, reveals a new report by Lloyds Bank.
These homeowners looking to buy their next house – known as second steppers – are in their strongest position for five years, according to the study. Rising property prices and an increase in first time buyers is making it easier to sell starter homes and move on.
The current price of the average starter home in the capital is 51% higher than in 2009, meaning that second steppers who bought when prices were still dropping could now make a profit of £190,000.
However, the report does state that first time vendors must find an extra £330,230 if they are hoping to move onto the next traditional property, a detached, family house.
Mortgages Director at Lloyds Bank, Andy Hulme, says: "Over the past few years, second steppers have faced some tough challenges and many have been stuck in their first homes.
"We are now finally seeing a much-needed boost to this vital part of the housing market, enabling more second steppers to make the next move on the housing ladder."
Raising a deposit is still one of the biggest difficulties to moving house, according to 45% of second steppers surveyed. A similar amount are concerned about their mortgage approval eligibility. However, a third are eager to move home soon, to take advantage of London's steady property market.
Hulme continues: "While challenges remain as second steppers try to bridge the gap to the next rung on the ladder, a steady rise in property values this year should further ease the constraint on many, and this will have a positive knock-on effect for the whole of the housing market."1 
Housing market activity will come to a standstill if second steppers remain in their starter homes, preventing aspiring first timers from buying a property.
Despite prices continuing to rise, last year experienced the highest number of first time buyers in seven years.
Even those that bought as recently as last year have seen the amount of equity in their homes grow by up to £77,000, caused by a rise in the prices paid for starter homes.
1 http://www.homesandproperty.co.uk/property-news/news/climbing-property-ladder-second-steppers-are-great-shape-upsize-bigger-homes-says-new-report