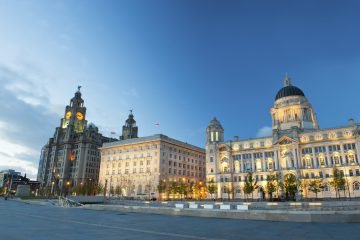 It now looks like a sophisticated, modern home that would appeal to many buyers. However, the property below was bought just a few months ago for £1.
The terrace house in Anfield, Liverpool was part of a major regeneration project. Call centre worker Liz Vaughan, 38, bought the property and has now cleared, renovated and painted the previously run-down home.
This house is one of 23 that were available to local residents to purchase for £1 in a scheme aimed at transforming a deprived part of the city.
Introduced two years ago, the project has also demolished 163 sub-standard properties and improved 197 others. A further 11 terrace homes have been converted into larger family homes.
As well as housing initiatives, efforts have been made to create more jobs, develop the local high street and expand Anfield stadium, which hosts Liverpool Football Club.
Liz, who grew up around the corner from her now house, says that the £1 scheme has given her the chance to buy her own property.
She explains what the scheme has done: "Giving people the opportunity to get on the property ladder who would not have been able to, because you need such a large deposit… and it's keeping local people in the community and people will take care of their houses. I can't wait to move in – I'm planning where to put the couch."1 
Ann O-Byrne, Deputy Mayor of Liverpool, observes: "For the first time ever", people are hoping to move back to Anfield.
She continues: "I've met some of the residents who have moved into the properties and they're absolutely overjoyed at what they consider to be their first family home.
"We're creating homes and they're really good quality, so families are going to thrive. We have really good schools in the area and Stanley Park is just on the doorstep. These houses are on the edge of the city but far enough away."1
The City Council, Your Housing Group and Liverpool Football Club ran the project. Alongside, a citywide scheme, Homes for a Pound, has recently entered its second phase.
The pilot scheme gave 20 run-down terrace houses to local residents for £1, giving them the opportunity to get onto the property ladder.
Now, 150 properties are being offered for sale for £1 by the Council in other areas of Liverpool to help rejuvenate neglected neighbourhoods.
Joe Anderson, Mayor of Liverpool, comments: "Our pilot Homes for a Pound scheme has been hugely popular and is transforming run-down properties into beautiful family homes.
"We are now in a position where we are expanding the scheme, and are inviting applications from people who meet the criteria and interested in talking part.
"People moving into the area will be an integral part of it becoming a thriving community again."1
1 http://www.dailymail.co.uk/news/article-3144199/Not-bad-quid-Inside-house-bought-call-centre-worker-just-one-pound-just-work-sofa.html