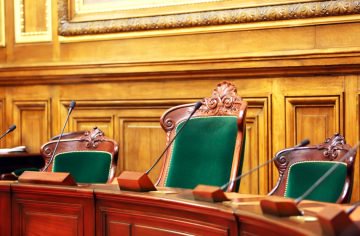 A criminal letting agent's Proceeds of Crime hearing has been delayed until next year.
This news arrives after a long trial involving Helen Gregory, 55, who did not repay £67,000 in tenant deposits.
When Gregory was paid £45,000 at the end of last year, she transferred the funds into her partner's account and he bought the couple a £25,000 car.
The Derby Crown Court judge told Gregory in April this year: "There are victims who are quite understandably furious. Not just that they lost their money, but the case has been strung out for two years or more."1
Investigations began in 2011, when Trading Standards responded to a tenant's complaint that they had not had their deposit money returned. Gregory was arrested in December 2012 and charged in July 2013.
The charges concerned three businesses in Matlock and Chesterfield, Derbyshire – Beechwood Lettings, Beechwood Property Portfolio and Letzlet – in the period from April 2007 to October 2012.
Deposits received by Gregory that should have been placed in a deposit protection service were not.
In February 2012, The Property Ombudsman (TPO) expelled Beechwood after it failed to pay an award and delayed paying rent into a landlord's account on 12 occasions spanning 19 months.
A month later, TPO found that Beechwood Property Portfolio was illegally displaying the TPO logos for sales and lettings, despite not belonging to a redress scheme.
Previously, TPO delayed the expulsion of Letzlet, trading as Beechwood Lettings, while the landlord was aided in obtaining a county court judgment of £2,176.
Gregory, of Spital, Chesterfield, pleaded guilty to three charges of engaging in unfair commercial practices in August 2014.
She was supposed to be sentenced last summer, but this was delayed, initially by six months, after she reassured the court that she would be able to repay the £67,000 owed to her victims.
Finally, she was sentenced to ten months in prison at Derby Crown Court in April this year and told that she would serve half of her sentence behind bars.
The court was told that she had not repaid the tenants and a Proceeds of Crime hearing was set for next week, 10th September. It is claimed that this will now take place in January.
Although Gregory has been banned from working as a company director for six years, she could legitimately work in the lettings industry or in estate agency.
She has not been banned from estate agency and her name is not included on the register published by the National Trading Standards Estate Agency Team. There is currently no legislation that bans agents from working in the lettings sector.
1 http://www.propertyindustryeye.com/agent-who-hang-on-to-tenants-deposits-has-proceeds-of-crime-hearing-delayed/