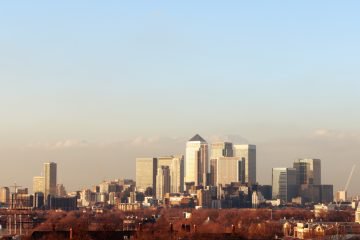 It's a thriving time for the Isle of Dogs, a previously disconnected part of semi-derelict dockland nestled in a meander of the River Thames.
The revival of Canary Wharf is spreading outwards; bringing new homes to its surrounding areas, including the Isle of Dogs. New glass and steel skyscrapers are replacing unused warehouses and abandoned industrial land.
Lincoln Plaza came onto the market three years ago, selling out to a mixture of British and foreign buyers, eager to buy in E14. The complex, at the junction of Millharbour and Lightermans Road, will see the first of these 381 owners move in by the end of this year.
One Housing Group has 42 shared-ownership properties for sale in iCON, a 14-storey building designed by architects BUJ, one of five intertwined blocks, ranging up to 31 storeys.
These homes will be completed by the end of the year. Although final prices have not been set, prospective buyers are still showing interest.
Guide prices start at £106,250 for a 25% share in a one-bedroom flat. For a 25% share in a two-bed flat, buyers will pay from £135,000 and those seeking a 25% share in a three-bed flat will pay around £163,750.
Those living or working in the local area will get the first pick of the homes, all of which have a private balcony or winter garden. The upper floors have a view of the Canary Wharf skyline and the Thames, and there is a communal roof terrace for residents.
iCON is about a five-minute walk from South Quay Docklands Light Railway station in zone 2 and less than a mile from Canary Wharf, where house price have increased by 27% since the start of 2013. Prices rose by just 10% across prime central London during the same period.
In 2018, the whole area will be boosted when Canary Wharf gains a direct rail link to the West End and Heathrow due to the Crossrail service and a foot tunnel beneath the Thames, linking the area to Greenwich.
A bit more about the Isle of Dogs… 
Historians are not exactly sure where its name came from, but some suggest it is where King Edward III used to kennel his greyhounds.
This summer, Galliard Homes gained planning permission for Millharbour Village, creating 1,500 new homes within six new skyscrapers alongside South Dock, which will one day house over 4,000 people.
The average house price in E14 is £514,022 and a two-bed flat costs an average of £2,574 per month to rent.
Former local authority properties can be good value for money. A smart two-bed flat, close to Island Gardens DLR station, is £340,000 and the Canary Wharf skyline is just outside your window.