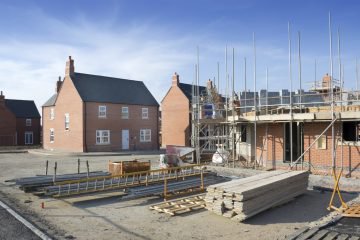 Experts are warning that Britain faces another significant threat of a housing crisis, with home shortages pushing up property prices across the whole of the U.K.
Slowing
A shortage of property for sale has led to a slowdown in market activity and has coincided with the London property market showing it's slowest growth in many months.
The Royal Institution of Chartered Surveyors (RICS) has recently released their latest property forecasts for the next five years. RICS suggest that house prices will rise by 2.5% during 2015, and then by 4.5% each year for the next five years.[1]
Their latest report on property price growth has shown an increase in value of homes across most regions of the UK in the three months to March 2015. However, prices actually fell in London and in the North of England.
Slipping back
Simon Robinson, member of RICS, said that, 'the boost that was given to the housing market by the Help to Buy scheme has begun to dissipate and activity levels have slipped back.' Robinson also believes that, 'even more worrying are the tentative signs that price momentum could be set to pick up once again, as the supply of stock to the market continues to fall.'[2]
Mr Robinson also points out that, 'election uncertainty may be having some impact on the market,' but is gravely concerned that, 'underlying the trends visible in the latest survey is a very real housing crisis which will urgently need to be addressed by the next government.'[3]
Election tension
These latest figures from RICS come when the future of the housing market is subject to scrutiny in the election debate. The Tories have pledged to extend the Right-to-Buy scheme to Housing association tenants, alongside local authority housing. Furthermore, the Conservatives will allow homes up to the value of £1m to not become subject to inheritance tax.
All main political parties seem to have given their support to increasing homebuilding. With this said, figures suggest that very few local authority houses being built has contributed largely to Britain's home shortage problem.
Small solution
The Conservative Party's proposals regarding the Right-to-Buy scheme will not solve the housing shortage problem, according to RICS member Jeremy Blackburn. He feels that the proposal to extend the scheme to local authority housing will only help, 'relatively small numbers of tenants to move into home ownership' and will not help at all to, 'solve the shortage in overall housing supply.'[4]
Blackburn went on to suggest that, 'aspirational home ownership is at the core of our economy,' but feels that Britain, 'must ensure that we have a future stock across all tenures and particularly for those on lower incomes.'[5]
Rental concern
In the letting market in particular, demand for housing continues to exceed supply. The RICS report states that, 'expectations for rental growth remain almost unchanged versus the previous month with respondents anticipating growth of 2.7% over the next year to come.' Additionally, RICS predict that growth will increase thereafter to, 'an average of 4.7% per annum over the coming five years.'[6]
Deposits put down by first-time buyers have also been perceived to be lower in the first three months of the year. Surveyors have noted that these deposits are lower in comparison to the final quarter of 2014.
Loan approval
The Bank of England's latest Credit Conditions Survey has indicated that both banks and building societies are now more open to lend to persons with deposits lower than 10%. Lenders have indicated that they expect to see an increase in home loan application approvals during the coming months.
[1-6] http://www.thisismoney.co.uk/money/mortgageshome/article-3040143/Housing-shortage-triggering-worrying-upsurge-property-prices-expectations-2-5-rise-2015.html