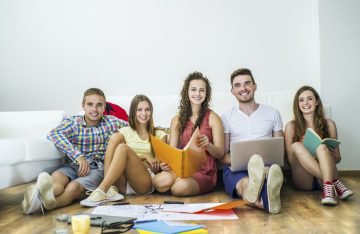 Student buy-to-let property in the United Kingdom is still proving to be a fruitful financial investment. In comparison to capital growth, income generated from student properties can be substantial, if landlords are prepared to give their time and effort.
Yields
Kate Faulkner, Managing Director of Propertychecklists.co.uk, suggests that gross income "can be as much as 10-15%" for landlords who are prepared to put the work in.[1]
The downside, Faulkner suggests, is that landlords cannot retrieve their money quickly. This is due to the fact that student properties can take a number of months to sell and can need thorough and regular decoration. Faulkner warns potential investors: "Regular redecoration, new flooring and upgrading of kitchens and bathrooms," can make student property sometimes feel like a "money pit."[1]
Insurance
Most landlords will charge students for a full year tenancy, despite the majority of students only living in their property during term time. As such, there are a number of insurance issues that must be addressed to cover any periods where the property is to be empty. In addition, landlords must always ensure that student tenants are in a position to pay rent.
Faulkner states: "When choosing a property from a buy-to-let perspective, this is a relatively easy task as most will want to be within a mile of campus and, as they tend to be city centre locations, you can either buy readymade lets or a bargain fixer-upper to improve returns."[1]
As with all buy-to-let properties, demand can vary over a long-term period of investment. Student landlords in particular can see demands hit by specialist student accommodation being built in a city. Others could be hit by rising tuition fees, which has already put a lot of prospective students off going into higher education.
Faulkner says: "Typically in the areas good for student lets, there are a few others who want to rent there." She also warns that a landlord's property "might be classed as a House in Multiple Occupation which may need a licence, adding to costs."[1]
She concludes: "Student buy-to-lets can be profitable," if landlords "understand the tax implications to income and assets of adding extra wealth through bricks and mortar."
Furthermore, she says that landlords must "understand the rules and regulations of letting," and ensure that themselves and their property are "approved by the student accommodation office."[1]
[1] http://www.iii.co.uk/articles/147172/it-good-investment-buy-property-let-out-students