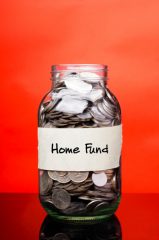 A concerning new report has indicated that a third of first-time buyers in the capital have less than £10,000 saved in readiness to purchase their initial home.
Despite this lack of finance, more than half still have plans to try and get onto the property ladder this year.
Financial struggles
The investigation quizzed over 1,000 would-be buyers, with a further 29% saying that they had less than £20,000 in the bank.
'When it comes down to it, the lack of deposit is the biggest barrier for most aspiring homebuyers today,' observed Lynda Clark, editor of First Time Buyer Magazine. 'Although we have recently seen a return of more 95% mortgages through mainstream lenders, a bigger deposit saved will mean access to lower interest rates, therefore making monthly repayments more affordable.'[1]
'First-time buyers need to make proper plans to save as ultimately it is the only way they will be able to take these first steps onto the housing ladder,' she added.[1]
Warning
More worrying data from the research showed that half of potential buyers had only researched property on the internet. Clark believes that many will have a rude awakening when they eventually speak to a mortgage professional.
She said, 'for homebuyers in more affordable parts of the country at £10,000 or £20,000 deposit may be just enough to buy a small property but in London and the South East, this amount is a long way off what is required to get on the housing ladder where deposits of up £72,000 are expected on the open market.'[1]
'Unless planning to tap into the bank of mum and dad, those with lower amounts saved will probably be looking to buy through one of the many purchasing schemes available such as Help to Buy or Shared Ownership,' Clark continued. 'These helpful schemes require less upfront costs, allowing homebuyers to secure a home with a 5% deposit and as a result are proving very popular with homebuyers.'[1]
Show
With the aim of encouraging potential purchasers to learn more about their available options, the First Time Buyer Home Show is to be held on October 10th, at the Business Design Centre in Islington. The event is free to attend and is expected to welcome thousands of first time buyers through the doors.
Clark believes that the show, 'is a useful event for first-time buyers who want to find out all of the opportunities available to them in the current market. Depending on what budget they have, there will be some great properties available; from one bedroom apartments in central locations to family homes within commuting distance of the capital.'[1]
'For many, just having access to free financial advice will be a good way to kick start the home buying process and set expectations at a more realistic level,' Clark concluded.[1]
[1] http://www.propertyreporter.co.uk/finance/a-third-of-ftbs-have-less-than-10000-saved.html