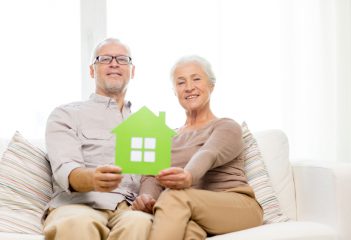 The Financial Conduct Authority (FCA) has stated that it is not its policy to encourage older people to move home, after a member of its mortgages team said the UK has a "real issue with the last time buyer" at a recent conference.
Lynda Blackwell, from the City regulator, said that the Government's focus on first time buyers might be misdirected.
She explained: "We've got a big supply issue in this country. There's a lot of questions about whether it is right that the Government should focus on the first time buyer when we've got a real issue with the last time buyer.
"There's older borrowers who basically pay off their mortgage and sit quite happily in a very big house."1 
Her statement was made during a panel discussion on the housing shortage. It provoked a strong reaction from Saga, which described the comments as unhelpful and insulting.
An FCA spokesperson said: "These comments, which were made as part of a panel discussion at a trade body event, do not represent FCA policy.
"Last week, we published a range of materials as part of a conference on the mortgage market organised by the FCA. That conference covered a wide range of issues concerning the mortgage market, including older homeowners."1 
Director of Communications at Saga, which represents older people's interests, Paul Green, responded to the remarks: "If people have saved and paid for their house over their working lives, it's down to them if they want to fill it with family or live on their own, but setting the generations against each other or talking about 'tackling older homeowners' is not just unhelpful, it's insulting."
However, he did acknowledge that looking across the market could help first time buyers.
"First time buyer scheme for the young are a good start, but we need to consider incentives to help encourage those that would like to move, to take that step," he said. "The FCA are right, we definitely need to do more and do it better, but using divisive language will only alienate the very people we need to help and encourage."1 
Although the shortage of new homes is the main cause of the affordability crisis, which is pricing first time buyers out of the market, the lack of existing properties being put up for sale is also an issue.
Recent data from the Royal Institution of Chartered Surveyors (RICS) shows that the number of homes for sale is at a record low, contrasting to a rise in the amount of hopeful buyers.
At an event on the London rental sector, Christine Whitehead, Professor of Housing at the London School of Economics, said the ageing population is one of the key issues in the capital's housing market.
"We are now housing four generations rather than three and we have not addressed that right across the board," she stated. "The result is that those who have to get into the market are being excluded by people like me who live too long."1
Chief Economist at the Council of Mortgage Lenders (CML), Bob Pannell, says that the UK has "an ageing population that holds a disproportionately large amount of national housing assets."
Statistics show that older people are more likely to under-occupy homes, but Pannell adds that they are also often "reluctant or unable to move to homes that might better suit their needs"2.
He adds that encouraging more activity across the whole market could cause better use of existing properties and the marketability of new homes.
A CML spokesperson insists: "No one is suggesting that anyone should be forced to do anything they don't want to do, however, there may be ways to remove the barriers that people who wish to move face."1
She says some homeowners who would like to move have found that after Stamp Duty and other costs, they would end up out of pocket by selling up.
Saga's research reveals that two-thirds of older homeowners would consider moving house for retirement, but they are prevented by the lack of suitable properties or the cost.
1 http://www.theguardian.com/money/2015/sep/18/its-not-policy-to-get-older-people-to-move-house-says-fca
2 http://www.cml.org.uk/news/when-building-more-homes-isnt-enough/