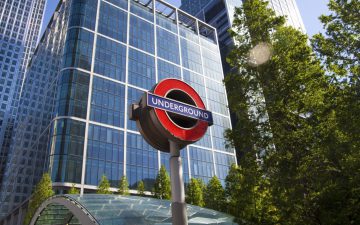 House prices are predicted to mount as the London commuter belt grows, cutting long commuting times.
In the past, the distance from the centre of London determined the price of a commuter belt property. However, this is changing. House values will now also be affected by how many minutes it takes to travel into London by train, not just how many miles away it is.
This is all down to Crossrail, the super-fast train system. From 2018, this will be able to get you from Slough in Berkshire to Tottenham Court Road in 32 minutes. It is currently 52 minutes, including a change at Paddington.
In the other direction, the train will take you from Canary Wharf to Heathrow Airport in 40 minutes, instead of the current 71.
Crossrail is the biggest construction project in Europe. It will connect Maidenhead in the west with Shenfield, and Abbey Wood in the east, via some of the busiest stations in central London; Bond Street, Tottenham Court Road, Farringdon, and Liverpool Street.
The project involves 37 stations, and will bring an extra 1.5m people within a 45-minute commute of central London. Experts believe that it will also increase house prices across the whole line.
Overnight, the journey from Ealing to Farringdon will take just 17 minutes, instead of 38.
For residents of Abbey Wood, they can get to Whitechapel in 15 minutes, rather than 49.
Estate agents Savills have conducted research that shows that Crossrail is also raising house prices by 23% above the borough average in Ealing, and Acton.1
And bigger growth is expected. The largest increases are predicted in Manor Park, Ilford, Seven Kings, Goodmayes, and Chadwell Heath.
James Hyman, Head of Residential Agency at Cluttons estate agents, says: "Such is the nature of the London property market that any area which might directly benefit from improved transport links will rocket in price.
"Crossrail will bestow previously suburban areas with the equivalent of a central London address, in the sense that more of the city will become immediately accessible."
Property consultants CBRE have revealed that the value of homes close to Crossrail stations has already risen by 20% over the local average. Another 13%, £60,000, per property is predicted by the time the first Crossrail train runs in 2018. This figure could increase to 20%, £100,000, in central London.1
Director of Aspire estate agents, Matthew Dabell, explains: "Crossrail will increase London's public transport capacity by 10%. It will contribute to significantly reduced travel times for many, and will have a big impact on sustaining the economy of both London and the South East."1
Past studies show that the expected highest rises in property value will be: Taplow, Buckinghamshire, Maidenhead, Berkshire, and Burnham. Journey times to London in these parts will be cut by up to 30 minutes.
Property consultants GVA found that between 2008 and 2013, 41% of planning applications within one kilometre of the Crossrail stations named the new railway line as the reason for the development.1
It is also expected, and hoped, that the improved links will provide 57,000 new homes.1
But it won't only be properties in the Crossrail area that will benefit.
House prices in areas of western England, beyond Maidenhead, will also rise.
David Milligan, of Private Property Search, says: "The most significant changes will result from the electrifying of the train line west of Reading. This means new rolling stock and increased train speeds.
"The Swindon, Chippenham, Bath, and Bristol route will see commuter train speeds increase, and journey times reduce. Places such as Chippenham, Wiltshire, and Kemble, Gloucestershire, will become the new Newbury in terms of train times to London. This will undoubtedly have an impact on property prices."
However, not everyone has realised this yet, as so much work is taking place in underground tunnels.
Hyman concludes: "We are getting ever closer to the completion date, and only a few investors have seized the opportunity. If you follow the Crossrail map, and invest accordingly, you won't go far wrong."1
1 http://blog.onthemarket.com/content/homebuyers-and-landlords-high-speed-profits-crossrail-map/