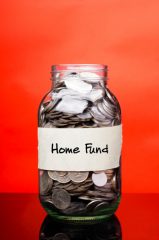 Prospective first-time buyers have been dealt a further blow, with the news that the average deposit for a home has risen to £31,807.
The latest Genworth/Moneyfacts Mortgage LTV Tracker shows that the average deposit for initial purchasers rose to 20% at the end of Q2. This was the largest amount for 12 months. The average first-time buyer house is now valued at £159,035.[1]
Decrease in lending
Despite the assistance offered by the Help to Buy scheme, lending is decreasing, with the average deposit up from a low of 16% recorded in October last year. Analysis by private mortgage insurer Genworth found June's average deposit of 20% to be the same as that in June 2013, before the Help to Buy scheme was launched.
When house price increases over the past two years are considered, the average deposit has grown by 9%, or £2,557, up from £29,250.[1]
Currently, the average deposit size is equivalent to 81% of an average first-time buyer's annual income of £39,065, showing the difficulty that many face in saving up for a home.[1]
For all buyers, the typical LTV for house purchase loans also fell by 2%, from 77% in May to 75% in June. This means that an average deposit of 25% is required as access to growing LTV lending has an impact on not only first-time buyers, but also those looking to move up the housing ladder.[1]
Narrowing
Gaps between 75% and 95% LTV mortgage have also narrowed since the beginning of the year, as a result of tumbling interest rates. In January 2015, the price difference was 71%, but this has since dropped to 69%.[1]
However, this figures remains high and means that those who cannot save for a larger deposit will have charges 69% higher than those who have access to a 25% deposit.[1]
For a typical first-time buyer property of £159,053, those with a 25% deposit are faced with a fixed payment of £500 per month. This is in comparison to £846 for those who can raise just a 5% deposit.[1]
Average repayments, based on a house purchase worth £159,035 were found to be:
| | | | | |
| --- | --- | --- | --- | --- |
| | 75% LTV loan | 95% LTV loan | Extra cost/saving at 95% LTV (%) |  Extra cost/saving at 95% LTV (£) |
| Deposit | £39,763 | £7,953 | 80% saving | £31,811 saving |
| Loan | £119,290 | £151,100 | 27% extra borrowing | £31,811 extra borrowing |
| Interest rate | 1.9 | 4.57 | – | – |
| Monthly fixed payment | £500 | £846 | 69% | £346 |
| Fixed term cost | £12,000 | £20,307 | 69% | £8,307 |
Rising products, falling rates
More evidence of the dominance of low LTV lending is apparent with the number of products for those with bigger deposits growing at a quicker rate than the total of new high LTV products. The number of products at 75% and 80% LTV increased by 280 and 200 respectively in the year to August. This was in comparison to 580 to 860 75% LTV products and 593 to 793 for 80% LTV mortgages.[1]
Comparatively, the total of 95% LTV mortgages increased by just 42, to 192 products over the same timeframe. Despite this slower growth, the number of 95% LTV mortgages in August is the highest since March 2015.[1]
'Despite record low interest rates over the past few months, the lingering price gap between 75% and 95% LTV mortgages means those unable to stump up a 25% deposit-averaging almost £32,000-face far higher monthly costs,' said Simon Crone, Genworth Vice President-Mortgage Insurance Europe. 'For many, a deposit of more than 5% is simply not an option and failure to encourage lending at this level is resulting in a massive shortfall in first-time buyers,' he continued.[1]
'Rising house prices and a lack of supply are exacerbating the situation and leave hopeful first-time buyers scrambling to save a deposit as quickly as possible, before the dream of homeownership gets any further out of reach. Help to Buy has encouraged greater availability of high LTV products but a rise in the average first-time buyer deposit shows limited take up and a lack of enthusiasm to offer high LTV mortgages from many lenders. While building societies in particular are doing more than their fair share in this part of the market, it requires a concerted effort and commitment from right across the lending fraternity. Help to Buy 2 is due to finish at the end of 2016 at which point lenders will no longer be incentivised to lend at this level; unless a long-term solution can be found the shortfall in first-time buyers is set to increase,' Crone added.[1]
Affordable
Crone believes that, 'the only way to overcome this and support the ambitions of homeownership is affordable mortgages-those requiring just 5% or 10% deposits-are made available permanently through greater use of private mortgage insurance by transferring the Help to Buy scheme to the private sector.' He went on to suggest that, 'through use of private mortgage insurance, more building societies have already been able to support many first-time buyers by increasing the number that are able to access 95% LTV mortgages.'[1]
'Before Help to Buy comes to an end, this needs to extend to banks, who are typically more reliant on the government scheme, so that access to these loans does not tail off,' he concluded.[1]
[1] http://www.propertyreporter.co.uk/hero/avererage-ftb-deposit-now-32k.html