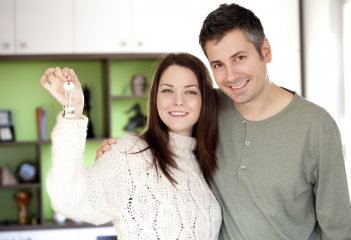 Encouraging statistics are set to be released that indicate the Government's Help to Buy scheme is proving to be a success.
Housing Minister Brandon Lewis is to reveal that since the inception of the scheme in April 2013, 131 new homeowners per day have been created.
Homes
The launch of the Help to Buy scheme has already helped over 100,000 people secure deposits for a home. In addition, soon to be released figures reveal that 80% of these were first-time buyers and 94% of sales made as a result of the scheme were outside of London.[1]
Mr Lewis believes, 'the figures clearly show the continuing success of the Help to Buy scheme in supporting many credit worthy, hardworking people who want to buy their own home.' He stated that the Tories', 'long-term economic plan has turned this country around from the one we inherited,' and that, 'numbers of first-time buyers are at their highest since 2007.' He also said that, 'house building continues to climb and over 225,000 households have been helped to buy or reserve property since 2010 through Government backed schemes.'[1]
Extended
As a result of the schemes' success, it is to be extended until at least 2020. Stewart Beasley, chairman of the Home Builders Foundation, feels that this is a huge boost for potential homeowners. Beasley feels, 'that demand is being met by the house building industry which is increasing output at the highest rate for decades.'[1]
'With this support for buyers in place, house builders are planning greater investment in land, labour and supply chains to maintain and sustain this increased level of activity,' Beasley continued. 'Delivering more, high quality houses will provide the next generation with decent homes, create jobs and boost local economies across the country,' he added.[1]
Data shows that the average price of homes purchased under the scheme is £213,954, down substantially on the UK average of £271,000. The main cities benefiting from the scheme were found to be Leeds, Birmingham and Wiltshire with, 1,477, 1,301 and 1,242 sales respectively.[1]
[1] http://www.propertywire.com/news/europe/uk-help-buy-success-2015061810651.html