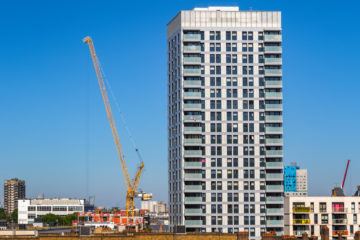 The Government has published its response to the House of Commons, Communities and Local Government Select Committee's (HCLG) report on cladding: progress of remediation, following the tragedy of Grenfell Tower.
Law firm Collyer Bristow has commented on this response that proposals on External Fire Wall Review (EWS1) reporting and efforts with mortgage lenders will be welcome by flat owners who have been in limbo, unable to sell or even remortgage until an EWS1 has been commissioned. However, speedy implementation is now needed.
Janet Armstrong-Fox, Partner and Head of Private Client Property at Collyer Bristow, comments: "All property owners living in residential blocks above 18 metres have been seriously impacted by the review of external cladding, irrespective of whether that cladding poses a fire risk or not.
"Mortgage lenders require an External Fire Wall Review report, form EWS1, but that can only be completed by a small number of individuals. Delays are leaving flat owners unable to sell their property or remortgage to avoid existing mortgage lending reverting to more expensive standard variable rate products.
"HCLG recommends in its report that there should be a relaxation around who can complete those surveys and sign-off the EWS1 form. The government is, however, reluctant to relax the requirements as to who can carry out this work to ensure it is undertaken to the appropriate standard.
"The government has, however, recognised the need for a prioritising the most urgent cases with an 'appropriate triage' into the process at the valuation stage. That will be welcomed by homeowners, insurers, and lenders alike.
"The government is also working with mortgage lenders to ensure that flat owners are not disadvantaged when their current mortgage deal ends. Yet it has said that, ultimately, mortgage transactions remain a commercial decision for lenders. Many are, encouragingly, reviewing policies and guidance for valuers of high-rise properties, and that too will be welcome."
Janet also concludes with a word of caution: "Flat owners have been left in limbo for far too long, with many in perfectly safe buildings left out of pocket or stuck in a property that is no longer suitable for them.
"Whilst it is encouraging that the government has broadly accepted the recommendations of the HCLG report, it must implement them as quickly as is possible. If not, flat owners will remain in further limbo."