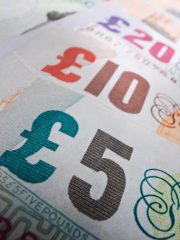 An estate agent has been jailed for failing to repay £67,000 that she stole from tenants, giving £45,000 to her partner.
Helen Gregory, 55, from Chesterfield in Derbyshire had previously promised a judge that she would give the money back, which had been deposit funds.
Gregory was paid £45,000 by another business, but transferred the money to her partner instead of returning it to her victims. Her partner then bought a £25,000 Jaguar car.
In August 2014, Gregory admitted three charges of engaging in unfair commercial practices, however a judge delayed her sentencing as she assured the court she would raise the money to repay the victims by selling a property.
This sale fell through and Gregory has now been jailed for ten months.
Derby Crown Court heard that Gregory was paid the £45,000 between December 2014 and January 2015.
Judge John Burgess said: "There are victims who are quite understandably furious. Not just that they lost their money, but the case has been strung out for two years or more. It sticks in the throat that someone could buy themselves out of a custodial sentence.
"It would have been more impressive if the £45,000 you received had not been paid to your partner, and then funds from that process gone to a payment of an expensive motor car. This money should have been paid back to creditors."
In 2011, Trading Standards investigated Gregory after tenants complained that they did not get their deposits back. Gregory was using the funds to try to avoid her businesses closing due to the recession. She owns agencies in the Peaks, Dales and Chesterfield.
Prosecutor Christopher Lowe told the court that inquiries found a total of 1,126 deposits that Gregory received in the five years she offended.
Mr. Lowe said: "Of which, some 796 had not been paid into the Deposit Protection Scheme. These deposits total some £548,747."1
Further studies revealed that £67,000 was owed to victims.
Defending Gregory, Robert Sandford said that the rest of the money had been given back to tenants, although it was not paid into the scheme. All deposits should placed in a deposit protection scheme, however, Gregory had not handed them over.
Gregory registered the deposits with the scheme, but these were cancelled when the service did not receive the money.
Gregory was subsequently arrested in December 2012 on suspicion of fraud by abusing her position as director of the agencies.
Mr. Sandford said Gregory had an "unblemished character" before the charges were made. He said that as her businesses started to fail, she began "robbing Peter to pay Paul."
After she pleaded guilty in August 2014, Gregory said she was close to selling a property in Matlock, which would give her enough money to pay back her victims. The judge accepted this offer, and postponed sentencing.
But the court was told last week that this sale fell through and no other offers had been made.
Mr. Sandford revealed that Gregory's partner had exchanged contracts on a property he owns in Bakewell and would pay her debts with the profits. Mr. Sandford said there was a "real prospect"1 that victims could be repaid in full by June.
However, Judge Burgess did not accept this offer. He said: "This is a case of promises, promises, promises being made and not kept. I'm not prepared to accept another promise and have to look at the damage that has been done.
"The harm can be seen in the anger expressed by the people who have lost money because of you. This is far too serious for anything other than a custodial sentence."1
Gregory was additionally banned from being a company director for six years. A proceeds of crime hearing has been planned for 10th September.
1 http://www.dailymail.co.uk/news/article-3071916/Estate-agent-did-not-repay-67-000-swindled-tenants-jailed-gave-45-000-partner-splashed-Jaguar-instead.html