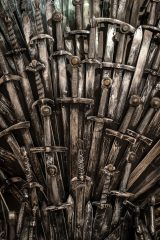 Although the seventh season of Game of Thrones has come to an end, some fans will still be hyped about the hit show. If you're looking for property in a Game of Thrones themed location, here are seven to consider:
Hybrid estate agent eMoov.co.uk has compiled a list of locations across England where die-hard fans can get a Game of Thrones themed property fix until season eight.
King's Langley – £412,301
King's Langley in Hertfordshire easily makes the top of the list for Game of Thrones fans looking to get on the ladder, after the town changed its name in February 2014 to King's Landing for a week to draw attention as a fan base for Game of Thrones enthusiasts. The town signs changed and local businesses were encouraged to follow suit with the theme, which ultimately proved successful as far as property is concerned.
Since the change to King's Landing, house prices have jumped by 43%, from an average of £288,033 to £412,301. The adoption of a Game of Thrones namesake seems to have positively impacted the area, with the rate of growth in Dacorum exceeding both the average for the wider county of Hertfordshire and England, of 41% and 27% respectively.
Although the market in King's Langley has already enjoyed a Game of Thrones inspired price spike, there are still a number of other areas for fans with all budgets…
Silverhill Drive – £117,500
If fans are looking for something different in their investment, then Silverhill Drive in Newcastle-upon-Tyne is an affordable option, with prices averaging £117,500. Silverhill Castle in the series is a Lannister controlled territory of the Westerlands, near Casterly Rock.
Rose Road – £181,000 
Birmingham's Rose Road has property going for £181,000 – a low price when compared to the road with the same name in Game of Thrones, which is the second largest across the Seven Kingdoms, connecting King's Landing and Oldtown.
Kingswood – £288,386
Going up in value is the village of Kingswood in Gloucestershire, with an average property price of £288,386. Kingswood shares a name with the large forest stretching across Central Westeros, from King's Landing to the Stormlands.
Wolf's Wood – £390,500 
Surrey's Wolf's Wood is a road where prices average £390,500. This higher price could account for a quieter lifestyle, similar to that in the North near Winterfell, bur with easy commuter access to the capital.
Blackwater – £588,940
Fans of King's Landing may want to look to the town of Blackwater in Hampshire, where the average house price is £588,940. In the show, Blackwater Bay sits on the edge of King's Landing and, similarly, Hampshire is in close proximity to London.
King's Road – £745,333 
Instead of worrying who will take the Iron Throne in the next series, fans wanting to buy in a regal neighbourhood can look no further than the King's Road in the Royal Borough of Kensington and Chelsea, where prices average £745,333. Hopefully, buyers on the King's Road won't encounter any thievery along the way!
The Founder and CEO of eMoov, Russell Quirk, comments: "It's always interesting how the popularity of a show can have an impact on the property industry as, of course, by attracting more people to the area in terms of tourism, the wider economy and property market can benefit.
"The name of a road or house can also help influence or, in some case, deter buyers for a variety of reasons, although purchasing solely based on your love for Game of Thrones is probably a bit drastic."