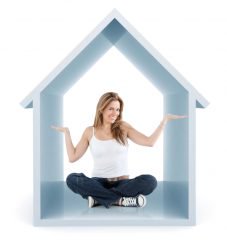 First time buyers are back, as the highest number has been reported since before the financial crash.
Estate agents Your Move and Reeds Rains stated that in July, there were 29,700 first time buyers, the highest level since 35,300 in August 2007.
The companies' post-recession record contrasts with the National Association of Estate Agents' (NAEA) report that the number of first time buyers dropped in July.
Your Move and Reeds Rains insist that the amount of first time buyers has been rising, up 5% on June.
Additionally, the firms released data revealing how low first time buyer levels were in the last four years, at just 12,300 in April 2012 after a Stamp Duty holiday ended.
This year began with around 19,000 first time buyers.
In July, the average first time buyer home cost £161,985, 8.9% higher than last year. The average mortgage had an 83% loan-to-value (LTV) ratio, but the required deposit was still £27,975, up 10% on last year.
The agents believe that first time buyers are rushing to get onto the property ladder before interest rates rise and the best mortgage deals are withdrawn.
Director of Your Move and Reeds Rains, Adrian Gill, says that many uncertain first time buyers are hurrying the process before costs increase.
He adds: "Some may have held back briefly when considering the rising deposit costs. But real wages have been growing too and first time buyers are able to shoulder the short-term burden of a slightly higher deposit to spare the risk of losing out on a good mortgage deal."1
The average price of a first time buyer property varies massively across the UK, from £109,000 in the North East to £275,000 in London.
This causes the size of deposits required to differ greatly also, from £17,659 in the North East to £66,879 in the capital.
1 http://www.propertyindustryeye.com/theyre-back-first-time-buyers-at-highest-number-since-crash/