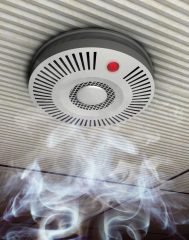 Yesterday, 10th March 2015, Penny Mordaunt MP spoke at the Local Government Association fire conference in Gateshead. The discussion came as part of the move to support fire and rescue authorities to reduce the number and impact of fires.
During the speech, Ms Mordaunt announced that the private rental sector will be subject to new regulations regarding alarms.
Ms Mordaunt became Minister for Fire Resilience and Emergencies last year, and has since been given the challenge of stressing the importance of the fire service to the Government, promoting the prevention of fires, and providing a clear plan for the future.
During this, Ms Mordaunt has effectively influenced the Government, as she revealed that they will be regulating this area.
Ms Mordaunt said that she was "pleased" to announce an introduction of regulations on the sector, after "the consideration of responses to the public discussion paper on Property Conditions in the Private Rented Sector."
Ms Mordaunt went on to explain that these regulations will require "private sector landlords to install smoke alarms on each storey of their property."
They will also need to install "carbon monoxide alarms in the rooms considered most at risk from high levels of carbon monoxide and to check the alarms are in working order at the start of any new tenancy."
Ms Mordaunt explains how this will work: "To aid this, we will be providing additional one-off funding to fire and rescue authorities this financial year to enable them to support landlords in the transition to complying with these new regulations."
She also stressed the importance these regulations can bring: "We estimate the regulations will result in up to 36 fewer fatalities and 1,529 fewer injuries over a ten year period."1
The Government will also try to encourage the installation of carbon monoxide alarms in all private rental properties, using non-regulatory techniques.
1 https://www.gov.uk/government/speeches/local-government-association-fire-conference-2015