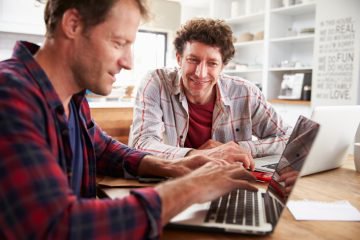 The amount of people having to flat share into their 40s has spiralled recently, with data showing a surge in renters priced out of buying a home and living with strangers instead.
Between 2009-14, the number of flat-sharers between 35-44-years-old increased by 186%, according to SpareRoom.co.uk, the UK's biggest flat share website. Furthermore, the amount of sharers aged 45-54 rose by a huge 300%.
Most of those forced into flat sharing are locked out of homeownership by soaring prices, but they have also found that renting alone is unaffordable. The average rent price in Britain has grown by 10.5% in the last 12 months, much further than the rise in earnings. The typical rent in London is now £1,558 per month, and just under £1,000 in most parts of the south.
Tenants spend an average of 50% of their earnings on rent, rising to 72% in the capital.
Alex Forsey, a 44-year-old photographer, has recently moved into a house in Clapton, East London, with three other people in their 20s to 40s
He explains his predicament: "The most affordable one-bed flat I was shown was £1,200 a month, and it was worse than a squat. The agent tried telling me it was a bargain."
Although he calls his flatmates "lovely people, very warm and welcoming", Alex says sharing a home at his age leaves him feeling anxious and unsettled.
He's infuriated by claims that renters splash their cash on holidays and smartphones rather than saving for a deposit. He insists: "It's absolute rubbish. I have not had a proper holiday in two years. I get quite well paid, but I'd have to put £40,000 down as a deposit for one of the tiny boxes that developers are putting up in London."1 
Half of tenants in the UK do not believe they'll ever be able to afford their own home, according to a recent Post Office survey. And a study by Asda found that a third of renters have argued with their flatmates over issues such as not paying rent or bills on time, allowing cats into the home and stealing clothes.
Rachel Churney, 41, opted for a flat share when she moved to London for her job.
Early in her career, she was able to buy in the north, but she soon found that not only could she not buy in the capital, renting alone was also unaffordable.
Rachel found a two-bed flat in New Malden, southwest London, which accepted her pet dog. However, she needed to find a flatmate so that she could afford the rent.
She remembers: "It means you have to go on to websites and find a complete stranger to live with."
Her first flatmate was ten years younger than her, and although being "a lovely person", Rachel soon found that her maturity meant she was put in charge of organising the bills and other tasks.
She is concerned about her constant insecurity compared to homeowners. She explains: "I've been told by the landlord that they want the property back and we have to move out in January. I'm probably going to have to almost bankrupt myself and get a place of my own. Even then, I know the maximum security I'll have is one year."1
Campaigners blame a serious lack of house building for this increase.
Generation Rent's Dan Wilson Craw states: "The failure of governments to build enough houses is forcing more people to make compromises in order to afford a roof over their head. For some, sharing is a lifestyle choice, but many others would prefer their own place, especially if they wanted to start a family.
"As long as house prices and rents keep rising, more of us will face years of arguments over whose turn it is to buy the loo roll."1
However, some really do enjoy sharing. Charlotte Ashton, 34, and Jannine Leadbetter, 43, live in a two-bedroom flat in Chiswick, West London.
Charlotte says: "I've shared all my adult life and have been in my current flat with my lovely housemate, Jannine, for two-and-a-half years. We are both not in a position to buy, as London prices, especially Chiswick ones, which are now £1m-plus on average, are just too high, and we've got caught in the trap of renting a beautiful flat with a direct Thames view, so buying – unless we won the lottery – would inevitably be a downgrade."
Before they moved in, the two women had never met. However, Charlotte's experience of flat sharing meant that she knew within five minutes if it would work.
She explains: "What's vital is that we each have our own space. We've never argued or even squabbled over anything. It's all about respecting each other. But the real key is making sure you have a cleaner."
She adds: "I also enjoy the flexibility. At short notice I can just bugger off abroad if I want to."
But Charlotte is no closer to buying, as she observes: "When I first moved in, the decent two-bed flats in Chiswick were £375,000. Now, they are £495,000."1
But flat sharing into your 40s is not just a problem for Londoners, according to EasyRoommate.com. The flat share website found that among its advertisers seeking flatmates, the proportion aged over 40 is higher in Birmingham than London.
Chief Executive of housing charity Shelter, Campbell Robb, reports: "With our housing market out of control and rents sky high, it's sadly no surprise that more and more people are finding themselves trapped in insecure flat shares well into their 40s.
"Government schemes like Help to Buy are only pushing up house prices even further and not doing anything to help those who really need it. The autumn spending review is the Government's last chance to show it is serious about solving this crisis, by investing in the genuinely affordable homes we desperately need, and giving renters back the chance of a stable home."1
1 http://www.theguardian.com/money/2015/sep/25/flatsharing-40s-housing-crisis-lack-homes-renting-london