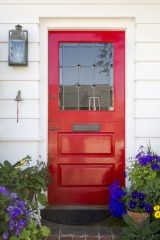 If you are planning to sell your house soon, have just moved into a new home, or think it's time to spruce up your property, the front exterior is more important than you may think. Cleaning up the outside can change everyone's perception of your place.
The following tips are simple, yet could give your home just what it needs to stand out.
The front door
The front door is usually the main entrance to your home, and is therefore the focal point from the outside. If your door has started to peel, or if the letterbox is becoming rusty, it's time to give it a makeover.
Bright colours are an easy way to make your house attractive from the exterior. If you are not quite bold enough, a new lick of paint in the same shade as your windows and guttering can be equally as effective.
The door handle, letterbox, and your house number should not be forgotten either. Metal polish can make them appear brand new, or new ones should not be too expensive.
The windows
To some people, dirty windows are an instant turn off. It may make people think that you do not care about your property, even on the inside. People may believe there is too much to be done to the house.
You can clean them yourselves, or have a window cleaner do the trick. However, it is also wise to check out the window frames once they are cleaned, and determine whether or not they are in a good condition. Windows should last about 20 years, so if you have had them for this length of time, it may be worth considering replacing them.
Plants
At this time of year, gardens can be looking very brown and unhealthy. Adding colour with potted plants or hanging baskets can bring your house to life.
This is a quick and cheap way of making your home more attractive, and ready-potted containers can be bought from garden centres.
Tidying up
Weeds that break through the driveway, drainpipes that are overflowing, and rubbish out for collection are all things that can put people off.
By ensuring things are packed away and tidy, you can save people being instantly discouraged to look further.
Try to make small efforts to give your house a whole new look, and if you are trying to sell, people will hopefully be excited to look inside.