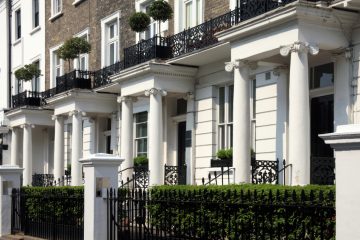 New research has found that Kensington and Chelsea is the most expensive place to buy a property in the UK.
In the London borough, one square metre will cost buyers up to £10,854. The same amount of space in the cheapest place to buy in Britain, Stanley, County Durham, is just £818. This emphasises the wide price gap around the country.
Using Halifax's property price index, the study divided the average house price by the size of the property in each location.
These figures arrive as concerns grow over the shortage of housing compared to the huge demand for homes.
Westminster, and Hammersmith and Fulham came second and third respectively. In fact, the top 20 most expensive places were all boroughs of London.
Mortgages Director at Halifax, Craig McKinlay, says: "House price per square metre is a useful measure for house price comparison because it helps to adjust for differences in the size and type of properties between locations.
"While there are areas in central London that are more expensive than anywhere else in the country, there are notable pockets outside the South East where property also has a high price per square metre."1
Outside the South East, the most expensive places to buy a property are: Edinburgh, Altrincham, Solihull, Leamington Spa and Aberdeen. The cheapest, after Stanley, are: Pontypool, Wishaw and Accrington.
The findings highlight just how spiralling prices are in London, where boroughs such as Lambeth have experienced a 61% rise in just five years.
Concerns of a housing bubble have been around for months recently, and the Bank of England (BoE) has reacted by introducing a stricter mortgage application process to avoid risky lending.
BoE boss Mark Carney revealed the tougher affordability tests, but says they are unlikely to have an immediate affect on soaring house prices.
Last week, Countrywide released a report that ranked the UK as the third worst place to build homes in Europe in regard to population growth. In the last decade, housing development dropped by 35% and Britain built the least amount of houses of all relative countries in Europe.
Countrywide's Chief Executive, Grenville Turner, comments: "The 2008 downturn in construction should not disguise the fact that the UK has failed to build the required number of new homes over a much longer period of time.
"A long-term lack of house building has meant that the UK was amongst the least well prepared countries to deal with the fall in house building in 2008."1 
Halifax's research discovered that house prices per square metre have risen by 13% in the past five years with prices increasing by 34% in London. However, prices in Scotland and the North of England dropped by 5% and 3% correspondingly.
1 http://www.huntersnet.co.uk/lse-blog/most-expensive-place-to-buy-a-house-in-the-uk-is-revealed