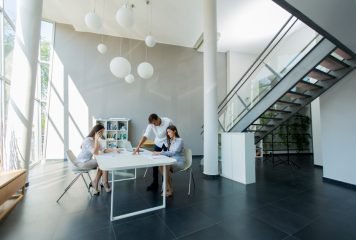 Franchise-based sales and lettings firm, EweMove, has opened five new branches.
The new offices are in Woodford, Cheltenham, Wakefield, Chelmsford and Sandiacre. EweMove now has 62 franchise branches.
EweMove's franchise branches are located around the country. A so-called sheep pen is the central business, where most of the normal letting agency administration operates, allowing the local franchises to focus on customer service.
As most of the franchisees work from home, the company's overhead costs are low.
EweMove is based in Halifax and claims that franchisees can build a £1m business, earning over £100,000 net profit per year.
Most of its franchisees do not have any previous sales or lettings experience, but upon opening a new branch, a development team provides an induction course and in-field training with a skilled franchisee.
Head of EweMove, Glenn Ackroyd, states: "We are delighted to open up these branches and have such a great bunch of new franchisees on board. Everyone in the EweMove family wishes them every success.
"The franchisee support network is firmly in place and we are able to advise our new lambs every step of the way. Whilst we launched our franchise model in 2013, the team behind EweMove have been in the industry since 2005, so we know what it takes to build a successful business."1
EweMove franchisees pay for the size of their territory, this includes training, IT systems, centralised accounting and reception services, membership of Rightmove and Zoopla and a starter pack including boards.
1 http://www.propertyindustryeye.com/new-branches-for-franchise-business-ewemove/