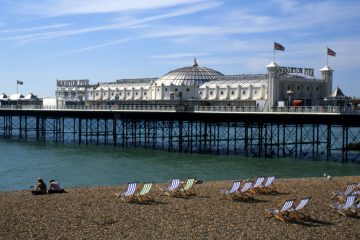 Most who consider East Sussex a property hotspot are thinking about the potential of Brighton & Hove. But although the city is popular with former Londoners, it is not the only option for great property opportunity.
Research by estate agent Knight Frank on the 13 towns in East Sussex reveals that since the lows of the recession in 2008, Lewes has experienced the best recovery, with average prices rising to 29% above the peak, at £348,000.
In Brighton, prices are now 19% higher than in 2008, at £285,919.
Lewes has many independent shops, cafes and restaurants, and although historic, it still thrives.
Within the South Downs National Park, Lewes is just ten miles from the coast and attracts buyers from London and Brighton searching for relatively affordable family homes.
The town has several primary schools rated good by Ofsted, with Newick C Of E receiving an outstanding report. Both Chailey School and Priory School secondary institutions are rated good.
Peak time trains take just over an hour to Victoria with an annual season ticket costing £4,068.
The priciest place to buy is the Wallands, northwest of the town centre, where a four-bedroom Edwardian home costs £1.2m.
The medium-priced property market has recovered well in Lewes, but the strongest price growth in East Sussex has been in the villages of Mayfield and Five Ashes.
Prices have increased by 13.4% in the last year to hit an average of £431,007. Annual price growth in Brighton was 10.6% over the past 12 months.
Although Mayfield doesn't have a train station, its high street is unspoilt with good independent shops and pubs.
A sales negotiator at Savills estate agent, Charlotte Melrose-Cantouris, comments: "It is one of the prettiest villages around. It has got everything you need."1
The village has a mix of property styles, including a solid Victorian stock. A three-bed semi-detached house costs between £450,000-£500,000 and expect to pay up to £1.3m for a six-bed detached Victorian property.
Mayfield and Five Ashes have primary schools rated good by Ofsted.
The nearest railway station is five miles away in Crowborough. Trains from here take 70 minutes to either London Bridge or Victoria and an annual season ticket is £3,740.
Alternatively, residents can drive ten miles to Tunbridge Wells in Kent and get a direct train to Waterloo or Charing Cross, taking from 51 minutes. An annual season ticket from here costs £5,020.
If a longer commute is not an issue, Rye is a perfect choice as it sits on the seafront.
House prices in the historic town have risen by 11% to an average of £268,639.
Rye's cobbled streets, medieval buildings and antique shops attract the locals and Winchelsea Beach is close by.
Sales Manager at Phillips & Stubbs estate agent, Jason Stubbs, estimates that one in four buyers in Rye are Londoners.
A four-bed terrace in the area costs between £500,000-£600,000 and a two-bed cottage is priced around £300,000-£400,000.
The 90-minute commute to St Pancras involves a connecting service from Rye to Ashford International and an annual season ticket costs a huge £6,748.
Next year, the Government will consider plans to extend the High Speed 1 line to Hastings, which will reduce travel times from Rye to London.
1 http://www.homesandproperty.co.uk/area-guides/uk-areas/commuter-home-hotspots-east-sussex-lewes-beats-brighton-top-spot-property-growth