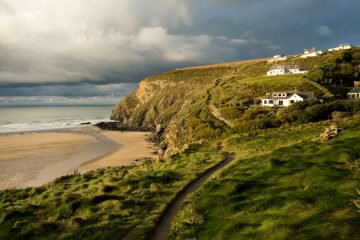 The BBC hit Poldark ended on a dramatic note last night, after millions tuned in for their weekly instalments of the series.
It appears that fans are not only enjoying the TV show, but are looking to experience the Cornish setting for themselves. Rightmove has revealed that house-hunting inquiries have more than doubled since the programme began last month.
However, aspiring buyers will need big budgets to move to the show's location. A five-bedroom home with a three-bedroom cottage in the cliff-top setting of Gunwalloe, where Poldark's beach scenes are shot, boasts a £1.75m asking price. A five-bedroom farmhouse will also cost a huge £550,000.
Moving to the village of Charlestown, used for its harbour scenery, will cost between £300,000 and £500,000 for a three-bedroom terraced house.
Estate agents say that the programme has brought hopeful buyers into the area using the "Poldark effect"1.
Linden Homes' Brian Deacon says: "Reservations, viewings and sales have certainly increased since the TV series highlighted the beautiful wild scenery in the part of the West Country.
"It's not really surprising that it is having such a positive impact on sales; this is such a stunning part of the world."1
1 http://www.dailymail.co.uk/tvshowbiz/article-3056736/Poldark-sparks-property-boom-House-hunting-inquiries-Cornwall-doubled-historical-drama-aired.html