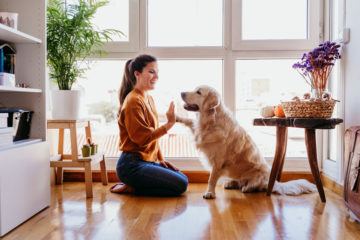 The Ministry of Housing, Communities and Local Government (MHCLG) has announced a change to the Government's standard tenancy agreement in England.
In a press release published yesterday, the Government states that landlords are no longer able to issue a blanket ban on pets. The aim is for the new standard tenancy agreement to make it easier for tenants with pets to find rented accommodation.
The statement goes on to say: "Instead, consent for pets will be the default position, and landlords will have to object in writing within 28 days of a written pet request from a tenant and provide a good reason."
Housing Minister Rt Hon Christopher Pincher MP commented: We are a nation of animal lovers and over the last year more people than ever before have welcome pets into their lives and homes.
"But it can't be right that only a tiny fraction of landlords advertise pet-friendly properties and in some cases, people have had to give up their beloved pets in order to find somewhere to live.
"Through the changes to the tenancy agreement we are making today, we are bringing an end to the unfair blanket ban on pets introduced by some landlords. This strikes the right balance between helping more people find a home that's right for them and their pet while ensuring landlords' properties are safeguarded against inappropriate or badly-behaved pets."
Robert Jenrick, Secretary of State for Housing, Communities & Local Government, has Tweeted: "Too few renters can enjoy the pleasure and companionship of pets. We've updated the standard tenancy agreement to make allowing well behaved pets the norm – and are encouraging all landlords and agents to adopt it."
Jen Berezai, Co-founder of AdvoCATS, comments: "AdvoCATS welcomes the new Model Tenancy Agreement announced by the Ministry of Housing, it's fantastic news and a huge step forward for all those who have campaigned for change. Now, responsible pet owning tenants, many of whom have previously been forced to choose between their pet vs a roof over their heads, will find it much easier to keep their family together.
"AdvoCATSeastmids is a voluntary organisation that offers a free support and advice service to landlords and tenants where a tenant wants to bring a pet or pets into a rented property. For more information, including a DIY Top Tips section for those outside the core East Midlands area, please visit www.advocatseastmids.org.uk."
Mark Hayward, Chief Policy Adviser of Propertymark comments: "Whilst we acknowledge that allowing pets can make a property more desirable and encourage tenants to rent for longer, even the best-behaved pets will have an impact on a property.
"The UK Government must recognise the impact of their decision to cap deposits and the knock-on costs that landlords face. This is a complex issue that is determined on a case-by-case basis highlighting the need for landlords to get advice from a professional letting agent."
Read the full press release here: https://www.gov.uk/government/news/new-standard-tenancy-agreement-to-help-renters-with-well-behaved-pets
Landlords can access the Government's model agreement for a shorthold assured tenancy here: https://www.gov.uk/government/publications/model-agreement-for-a-shorthold-assured-tenancy