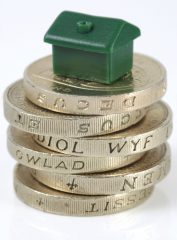 Nationwide is the latest mortgage provider to drop their rates, as they launch a ten-year fixed rate mortgage at 2.94% with a £999 charge, or a fee-free deal at 3.09%.
Dropping inflation levels and steadying in economic growth have cut interest rate increases, but now homeowners can lock into their repayments for a whole decade, at record low rates. Nationwide is moving forward in the ever-competitive market.
However, these appealing deals are only available to existing Nationwide customers.
Borrowers have been profiting recently from a price war between lenders, as they cut their rates in a host of deals.
Nationwide's present customer base has been benefitting from the building society's vow to compare its rates with high street rivals weekly, and to make cuts if necessary, in a bid to stay competitive.
These new deals have arrived only a week after Barclays launched a record low ten-year fixed deal at 2.99%. This is still the best rate possible for non-Nationwide customers.
Existing Nationwide borrowers with 40% equity in their property can now move to the ten-year fix. With this deal, a 25-year £150,000 mortgage would cost £706 a month and £85,795 over the decade. This is £468 cheaper than Barclays' deal.
Under Nationwide's fee-free rate, of 3.09%, the same mortgage would be cheaper in the long run, at £718 a month and £85,680 over ten years.
Both of these offers are appealing to those looking to stay in the deal for a decade. However, with any long-term fixed rate, borrowers should look out for any early repayment charges.
If a borrower leaves in the first four years, the charge would be 7%. This drops to 6% in the fifth year, 5% in the sixth, 4% in the seventh, 3% in the eighth, 2% in the ninth, and 1% in the last year of the mortgage.