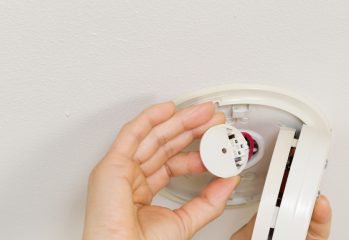 The Smoke and Carbon Monoxide Alarm (England) Regulations have finally been passed in Parliament.
Landlords and letting agents now have until 1st October to fit a working smoke alarm to each storey of a rental property and carbon monoxide alarms to all rooms with solid fuel appliances.
The Association of Residential Letting Agents (ARLA) warns that it is "simply impracticable" for agents that manage large portfolios to comply in the timeframe.
Last week, the House of Lords refused to approve the regulations, questioning whether they should be enforced in their current form and when.
Peers claimed that the regulations had not been publicised enough and that they were badly drafted.
However, the House of Lords has now accepted the regulations and the House of Commons also approves.
The Managing Director of ARLA, David Cox, has criticised the tight timeframe.
He says: "Whilst ARLA is entirely supportive of the aims of the regulations, we remain concerned that the Government has ignored calls from across the private rented sector to reconsider the timeframe for its implementation.
"Whilst these measures are entirely sensible, ARLA is concerned that landlords will not have enough time to comply with the requirements, as it is simply impracticable for letting agents, who may manage a huge amounts of properties, to gain access to the properties and to install these alarms on behalf of their clients in the timeframe allotted."
Cox continues: "On behalf of its members, ARLA has written to the Government on this issue to raise its concerns and suggested that all existing tenancies should be allowed to have until January 1st to comply.
"We were encouraged to see that Lord Marlesford showed support for our proposals in Parliament and again put our suggestion to the Government.
"However, despite our efforts it appears that the Government will now go ahead and implement the new requirements as planned."
He advises: "We urge our members to ensure that they do all they can to ensure that their properties comply with the new regulations before the measures come into effect."1 
1 http://www.propertyindustryeye.com/a-race-against-time-just-two-weeks-to-fit-smoke-alarms-in-all-rental-properties/