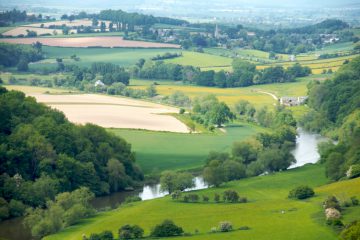 The Church of England has been urged to sell off some of its land to help Britain's housing crisis. The Church is one of the country's biggest landowners.
The Centre for Theology & Community and the Christian campaigning group, Housing Justice have proposed this measure in a new report.
They warn that the shortage of affordable homes poses a fundamental threat to the identity of communities and cities in the country.
The report says: "Unless we act now, it may be too late and the poorest will be pushed to the geographical margins. We need to build on the success of campaigns for a Living Wage and responsible lending, otherwise they will be undermined by the consequences of the housing crisis."
The Church has a huge estate, including properties in villages, towns and cities around the country and over 100,000 acres of land in England and Wales. Its property portfolio is worth around £2 billion and accounts for almost a third of the £6.7 billion in assets it holds.
The report says that the Church should lead by example in helping to tackle the housing crisis: "The Church cannot speak out on this or any other issue without putting its own house in order. If churches are to call for others to make housing a priority, we will have to consider how we steward our property and how congregations might offer practical support to housing associations."
Selling off some land to build homes is one way it can help, as various denominations own a "surprising amount of land."
"Where land for housing is scarce, Church land can be particularly useful to housing associations," says the report.
A large vicarage in Gloucester is an example of this, when land was leased to a housing association and used to create 14 new homes.
The Church could also provide volunteers for housing associations and meet the "spiritual needs of residents"1, as well as campaigning for housing.
Thee are 12,000 parishes in England, however, many churches have been hesitant to consider developing their land, often keeping unused land for years. However, charity law allows them to sell land below market value for social housing if it falls within their charitable objectives.
The Venerable Rachel Treweek, Archdeacon of Hackney and Bishop-Elect of Gloucester, writes in the foreword: "I have seen at first hand what the Church can do in partnership with others: How it has been at the heart of initiatives which have secured a Living Wage for low-paid workers, challenged exploitive lending and supported ethical alternatives. I believe the Church can have the same transformative impact on the issue of housing."1
Chief Executive of the National Housing Federation (NHF), David Orr, says: "By bringing together our assets and skills, churches and housing associations can go further in creating lasting change in our communities."1
Chief Executive of Shelter, Campbell Robb, responds to the report: "At a time when our housing shortage is leaving thousands of families struggling to keep a roof over their heads, it's inspiring to see a proposal encouraging integral parts of the community to help provide the genuinely affordable homes we need.
"But ultimately, the Government needs to meet initiatives like these halfway by investing in building the homes we need, because without the Government rolling up its sleeves as well, we won't fix this crisis."1 
A spokesperson for the Department for Communities and Local Government states: "We welcome this report, particularly the proposal on releasing land for social housing.
"Housing is an important issue for us all, and while house building is at a seven-year high, with construction starts up 5% over the last year alone, we must maintain this momentum."1
Only 6% of land owned by the Church has been reserved for development for housing. A spokesperson for the Church of England says: "The Church Commissioners own 105,000 acres of rural let land across England and Wales.
"Approximately, 6,000 of these acres have been identified for strategic development, including the provision of new market and affordable homes delivered in conjunction with house builders and housing associations."1
Land and property belonging to the Church is owned and managed by 41 dioceses, making it difficult to determine how the plans would work. Its assets include 16,000 churches in England and 105,000 acres of land in England and Wales.
Alongside large parts of land in cathedral cities such as Canterbury, York, Peterborough and Ely, the Church has investments in commercial and residential property, such as the Hyde Park Estate in London. Its overall property portfolio is worth around £2 billion.
The Church continues to buy land, acquiring 121 acres in Carlisle, 50 acres in Peterborough and 765 acres in Kent last year, as well as 17,000 acres of forestry in Scotland and Wales.
The land owned by the Church is not confined to Britain. Last year, it bought a share of an empty office building in Burbank, California and land in Michigan for retail and residential development. It also purchased 27,000 acres of forest in Virginia and land in the Northern Territory, Australia for sandalwood plantations.
1 http://www.independent.co.uk/news/uk/home-news/church-of-england-must-sell-some-off-of-its-land-in-response-to-housing-crisis-says-report-10311182.html