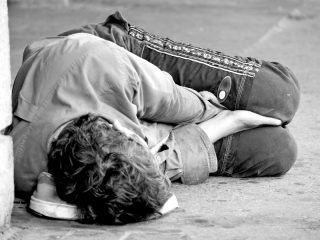 Thousands of vulnerable young people could become homeless due to the Government's plans to cut housing benefit payments to unemployed 18-21-year-olds, warns the YMCA.
The youth charity houses around 1,400 young people in supported accommodation who would be affected by the change. The YMCA believes that the policy won't save much money for the taxpayer, but cause instability for young people who have left family breakdowns and abuse.
It states: "The Government could be in danger of inadvertently taking away support from the young people who need it most, and in doing so, exposing many more vulnerable young people to the risk of becoming homeless."1
The Government insists that its plans to end entitlement to housing benefit for unemployed youngsters will take away the incentive to leave home and live off benefits.
The policy would affect all new claimants after April 2017 and is predicted to save £135m over four years, according to Government estimations detailed in the Budget.
But some groups are exempt, including care-leavers, says the YMCA. Once these costs are considered, alongside the added costs to public services for dealing with increased homelessness, the net savings are likely to be only £3m.
Chief Executive of YMCA England, Denise Hatton, comments: "In seeking to tackle those small numbers taking advantage of the system, the Government is in real danger of inadvertently taking away support from some of the country's most vulnerable young people.
"In removing automatic entitlement to housing benefit, young people could face the prospect of losing not only a safety net, but also a springboard that helps get them up and get their lives back on track."1 
A Department for Work and Pensions spokesperson claims: "This report is deliberately misleading, since we have been very clear that vulnerable young people, including care-leavers and people with children, will be exempt from this policy.
"We want to make sure young people get the support they need to move into work and do not slip straight into a life on benefits."1
The Government is expected to exempt care-leavers, those with dependent children, disabled youngsters who cannot work and young people who have been working for six months before claiming.
Before exemptions, the YMCA says that 19,000 young people currently claim Jobseeker's Allowance (JSA) and housing benefit, equivalent to under 1% of housing benefit claimants.
It argues against this group chasing a lifestyle choice, saying that almost three-quarters claim for less than six months, indicating that it is used as a short-term safety net. JSA is £57.90 per week and the average housing benefit payment is under £75 a week.
The YMCA points out that the amount of 18-21-year-olds claiming both entitlements has halved in the last two years and is decreasing faster than any other age group. Over two-thirds of 18-21-year-olds live at home with their parents, and this proportion has grown over the last decade.
1 http://www.theguardian.com/society/2015/aug/04/housing-benefit-cut-thousands-vulnerable-young-people-homeless