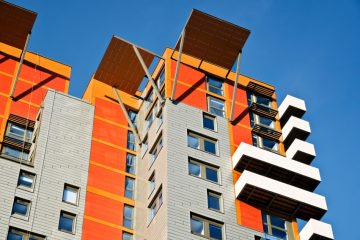 The Mayor of London's office has confirmed plans for a piece of industrial land in East London to be developed into a new neighbourhood with thousands of homes and a train station.
The 29-hectare site in Beam Park, Rainham, is one of the largest areas of land reserved for new development currently owned by City Hall and the last major site to be released.
The area could hold around 2,000 new homes, with a potential of 5,000 in nearby developments.
Richard Blakeway, London's Deputy Mayor for Housing and Land, says: "The development of Beam Park will result in a vibrant new neighbourhood with major transport links, providing a new locus of jobs, activity and growth for south Dagenham and East London. We're looking for some truly visionary proposals in response to this exciting opportunity."1
Beam Park railway station is being funded and built in partnership with Network Rail, Transport for London (TFL) and C2C Rail. It has been awarded £9m from TFL's Growth Fund. The Fund is designed to invest in transport improvements to release regeneration areas in the capital, where funding is difficult to secure from elsewhere.
Alex Williams, TFL's Director of Borough Planning, explains: "Excellent transport links are key to supporting growth and regeneration across London. Beam Park is a prime example of how TFL is using its Growth Fund to work with the GLA [Greater London Authority] and the boroughs to secure the delivery of transport schemes that will unlock development."1
Leader of Barking and Dagenham Council, councillor Darren Rodwell, comments: "Barking and Dagenham is London's growth opportunity. Beam Park and the adjacent Ford Stamping Plant comprise one of our six growth hubs, which collectively will deliver 35,000 new homes and 10,000 new jobs by 2035.
"These sites have the potential for 2,500 homes and will not only enjoy access to the new Beam Park Station but also convenient access to the existing Dagenham Dock Station."1
Leader of Havering Council, councillor Roger Ramsay, says: "The news from the Mayor of London that the Beam Park development is set to go ahead is wonderful.
"I am delighted that residents in the Rainham area will see a dramatic improvement in the provision of homes and jobs, and significantly improved transport links."1
The Mayor, Boris Johnson, is now asking members of the London Development Panel to offer him proposals on how best to develop the site into a residential area and neighbourhood with around 2,000 high-quality homes. 35% of the development is expected to deliver affordable housing through a mix of tenures.
Johnson has vowed to release all land currently owned by City Hall by the end of his mayoral term in 2016.
Beam Park's release arrives after other parts were freed, including: the Royal Docks in East London; the 10.6-hectare Stephenson Street site near West Ham station; and the 40-hectare industrial land portfolio in London Riverside.
The new railway station will help improve the employment opportunities Johnson hopes to create in Rainham. The Mayor's team are working with development partners to provide industrial premises, expected to bring new jobs to the area.
Beam Park is within the London Riverside Opportunity Area, which is aiming for 26,500 new homes and 16,000 new jobs in the boroughs of Barking and Dagenham, and Havering.
1 http://www.24dash.com/news/housing/2015-06-09-New-London-neighbourhood-to-include-nearly-2-000-homes-and-new-train-station