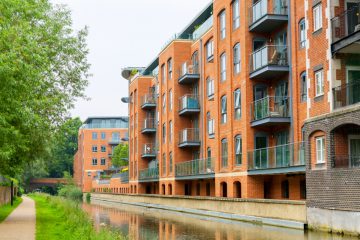 Flats have experienced the highest price growth of all property types in the last decade, rising by an average of 60% since 2005, compared with a 38% increase in price for all homes, revealed research by the Halifax.
The bank found that the average flat saw £730 added to its value every month in the past ten years, taking the typical price from £145,800 in 2005 to £233,400 today.
As price growth for flats has surpassed that for all other home types, first time buyers are becoming increasingly attracted to semi-detached houses, according to Halifax.
Meanwhile, buy-to-let investors have started favouring flats, a potential cause of the price increases. Data from the Council for Mortgage Lenders (CML) shows that 36% of mortgages issued to landlords have been for flats.
This rises to around two-thirds in London, making flats the most popular property type for buy-to-let investors. Read more from the CML here: /buy-to-let-landlords-owe-equivalent-of-hong-kong-economy-in-mortgages/
The 60% price growth of flats compares with an average increase of 21% for detached houses and 28% for bungalows.
However, the surge in prices has been predominantly fuelled by the capital, where the prices of flats – accounting for half of all housing stock in London – have risen by an average of 67% in the last ten years.
There are also massive regional variations. The average price of a flat in London is £370,200, a huge difference to the typical prices of £102,900, £110,000 and £113,100 in the North of England, the East Midlands and Wales, respectively.
Although flats experienced the strongest price growth in the capital, Scotland and the South West in the past decade, they have performed a lot worse in several other regions.
The average price of a flat has fallen in two parts of the country since 2005 – by 7% in the East Midlands and by 2% in Yorkshire and the Humber.
Among first time buyers, semi-detached houses have risen in popularity, accounting for 28% of purchases in 2015 compared with 21% in 2005.
Housing Economist at the Halifax, Martin Ellis, comments: "Flats have recorded larger price gains over the past ten years than any other property type.
"The national increase in flat prices has been led by London, where flats account for roughly one in two property sales – substantially higher than for the country as a whole."
He adds, however, that overall, semi-detached and terraced houses are the most popular choices among buyers: "First time buyers have switched to some extent away from flats – reflecting their large price increases – towards semi-detached homes over the last decade."1
1 http://www.theguardian.com/money/2015/sep/23/average-uk-flat-value-rises-60-per-cent-past-decade