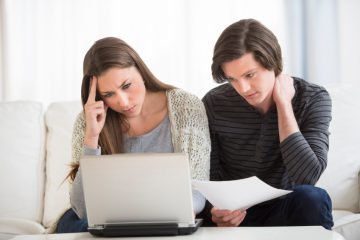 Around half (45%) of those planning to buy a home since the Mortgage Market Review (MMR) last year have been unable to do so.
Research has revealed that prospective buyers are confused about the Government's new affordability rules, which has caused disappointment.
A quarter of survey respondents said that the MMR has affected their ability to buy a property, and a further third (37%) claimed that the changes have made them feel less in control of being granted a mortgage.
The study was conducted by Experian as part of its latest report, The Mortgage Muddle – One Year After the MMR.
The research also found that among those who could not buy since the MMR, many are still unaware of the basic financial preparations they must make to apply for a mortgage. Almost half (46%) have never checked their credit report, meaning that they do not know how a lender would assess their ability to repay the loan.
Head of Consumer Affairs at Experian, James Jones, says: "Preparation is the key to successfully navigating the mortgage market post-MMR. Understanding the affordability rules and how a lender makes their decision is the key to success.
"But it can take time to build a positive credit history and a solid track record of positive money management, so it's important you start preparing as soon as you make the decision to buy."1 
In another study by Experian from April 2014, only 44% of respondents knew that the MMR would make lenders more careful about making sure borrowers could afford their repayments.
A year later, it seems that this confusion is still affecting hopeful buyers. Of 1,500 respondents who either bought or planned to buy in the past year:
62% did not know that lenders might require higher deposits. 23% thought they could have smaller deposits than before.
37% were unaware that lenders would be more careful about whether borrowers could afford the loan.
15% thought that lenders had relaxed their lending criteria due to the MMR.
Of those unable to buy in the last year:
13% don't know how much money they have left over at the end of the month.
18% don't know how much they can afford in monthly repayments.
14% did not have a large enough deposit for the property they wanted to buy.
12% could not secure the size mortgage that they needed.
11% of those who were unsuccessful didn't know why or didn't ask the lender, putting them at a disadvantage when they look to be accepted in the future.
ExplaintheMarket's Guy Shone, notes: "We're now one year on from the MMR and it seems many people remain stuck in a bit of a muddle. More needs to be done in 2016 to encourage personal financial planning and properly support aspiring home buyers, so that all buyers fully understand the rules of the game and stand the best chance of securing a property they can afford."1
1 http://www.propertyreporter.co.uk/property/half-of-prospective-property-buyers-disappointed-in-year-since-mmr.html