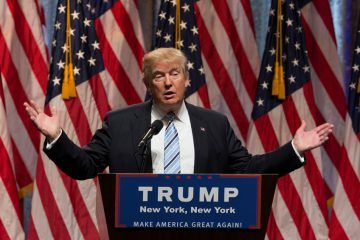 It's official – Donald Trump will become the 45th president of the United States of America following yesterday's astonishing election.
So will Americans flee their homeland and buy a home in the UK now that Trump is president?
Ahead of the election, we released reports from property agents in the UK that many US citizens are looking to flee the country, depending on the outcome of the vote. Some home sales were already linked to both potential results.
But was it the possibility of Trump that was putting them off staying in the US?
Earlier in the year, a poll of 2,000 registered voters revealed that 28% were considering leaving the States if Trump was elected, with many citing Canada and the UK as likely destinations.
And judging by the fact that Canada's immigration site has crashed since the outcome was announced, it appears that many will be following through with their plans.
We will have to wait and see whether the UK finds itself bombarded with immigration requests from US citizens now that Trump is victorious!
And what a stunning victory – The Republican nominee defied pre-election polling, claiming swing states such as Florida, Ohio and Pennsylvania, to beat Democrat Hillary Clinton.
As poll counting went late into the night, it was Trump's shock victory in Wisconsin that put him over the 270 out of 538 electoral college votes needed to win the White House.
And while the new president was quick to congratulate Clinton on her efforts and service, Trump went on to call on all Americans to "come together as one united people".
With so many US citizens already looking into immigration options, and many showing interest in property across the pond, it seems that Trump's dream may not be so straightforward.
What do you think of the new president? And do you think Americans will indeed flee to the UK now that Trump is in office?