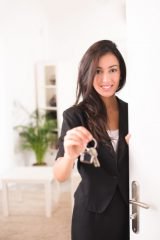 One hundred agents that left for OnTheMarket have returned to Zoopla, City analysts were informed.
They were also told that the remaining growth of 113 offices was from new agent formation.
Zoopla expects returning agents to pay the same advertising rates as before they left.
Furthermore, The Guardian reported that Zoopla boss Alex Chesterman has created a new deal that will earn him an £11m share sale plus long-term bonuses of up to £20m over four years.
Chesterman has already made more than £70m by selling part of his stake in Zoopla when it floated on the stock market last year.
His new performance-based share plan will see the maximum number of shares that can be earned over a four-year period sit at 7.5m, worth about £20m at current prices.
The Guardian states that Chesterman's new deal is replacing a long-term incentive plan that entitled him to shares worth up to 150% of his salary.
The newspaper also revealed that Chesterman was paid £499,000 for the year to the end of September 2014, including a £302,000 salary.
City analysts had varied opinions on Zoopla's trading update.
Numis said it was "encouraging"1, but Investec believed the update to be "light on financials" and said that Zoopla's "valuation remains expensive given weakened market position and OnTheMarket impact."1
Exane BNP Paribas noted that just 100 agents out of around 4,000 have returned from OnTheMarket and that "questions remain on 2016 prospects."1 
Shares in Zoopla have risen by 4.68% to 264.85p. This was its second consecutive daily increase.
1 http://www.propertyindustryeye.com/one-hundred-defectors-return-to-zoopla-from-onthemarket/