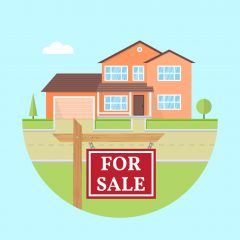 Local authorities are calling for a ban on 'For Sale' and 'To Let' boards across the UK. As such, property portal Residential People has highlighted the benefits of digital marketing.
As well as potentially more bans, Residential People believes that many consumers are becoming increasingly disillusioned with advertising boards.
Distaste for boards continues to grow
Advertising boards may have been an effective market tool for many years, but they are arguably less effective in a modern property market. Consumer behaviour continues to shift towards digital solutions.
More local councils are also looking to ban boards in certain areas, following consumer complaints, according to Residential People.
Camden Council recently urged the government to back its request for a borough-wide Section 7 direction. This would see all boards banned unless planning consent is secured.
Boards have been described by the local authority as 'clutter' and 'free advertising'. It has reported receiving over 1,000 complaints about boards from residents over the last five years.
Christopher May, Director of Residential People and its sister company Commercial People, says: "In areas where boards are banned, the decision for agents is already made and they can use the additional marketing budget to focus on innovative digital strategies.
"However, forward-thinking firms who are still able to erect boards should seriously think about reducing their use of boards."
The power of digital marketing
Residential People argues that a digital-focused campaign can provide agents with a more rounded and effective marketing strategy.
According to the portal's research, in 1997 when the UK's first portal Propertyfinder was launched, only 7.39% of the UK's population used the internet. When Rightmove launched in 2002, 56.48% of the population was using the internet. Fast forward to 2016 and 94.78% of the UK population use the internet.
The internet is also no longer just for the younger generations, with the proportion of 65-74 year-olds going online regularly rising from 52% in 2011 to 83% in 2019.
May comments: "Agents have an exponentially greater market of all demographics to target than ever before via portals and other online marketing methods, from first-time buyers and second-steppers to landlords and downsizers.
"Digital marketing allows agents to track results effectively and then shift spend, approach or messaging accordingly to get the most out of their budget.
"For Sale and To Let boards may be good for brand awareness, but unlike online marketing, boards less likely to generate leads beyond the local area."
Online alternatives are more cost-effective
May explains: "Marketing your agency via videos, online brochures, featured property advertising and microsites can enhance your brand recognition and promote awareness of your available properties with the right audience.
"Despite the growing influence of video marketing, our research of over 3,000 agency websites found that 7 out of 10 firms do not use video or promote a corporate YouTube channel."
Residential People adds that the influence of social media platforms continues to grow for agents looking to engage with a large audience of consumers.
According to 'Our World in Data', two-thirds of 3.5 billion internet users worldwide are active on social media.
"Platforms such as Facebook, Twitter and Instagram are ripe for agents' promotional campaigns and can help them to generate leads for a fraction of the cost of traditional advertising," May adds.
"A holistic digital approach can help agents to be more targeted to specific areas and audiences, while also taking advantage of the millennial market which is made up of the buyers of today and the sellers and landlords of tomorrow," he concludes.