Property News
Luxury Student Accommodation on the Rise, but can Anyone Afford It?
Em Morley - October 25, 2017
Gone are the days of basic bedrooms, dodgy dorms and awful apartments. Nowadays, students can look forward to a new breed of luxury student accommodation – kitted out with flat-screen TVs, en-suite bathrooms, and access to communal cinemas and gyms – but can anyone afford it?
In the middle of a student accommodation crisis, it is being questioned whether students can really afford these new facilities.
Prices for luxury student accommodation in London can range from £170 per week for a standard twin (double bed, fitted wardrobes and en-suite) to £369 per week for an ultra studio (double bed, communal area and en-suite). These prices are equivalent to £680 and £1,476 a month respectively.
Whilst investment into student developments is on the rise, as property investors try to cash in on high demand from university students, it seems that some of the latest luxury student accommodation blocks are far out of reach.
Last year, over £4.5 billion worth of student accommodation (68,000+ beds) were traded between property investors – this is projected to increase to £5.3 billion by the end of 2017.
Student accommodation is considered low risk for investors, who are safe in the knowledge that there is a guaranteed income from students, as higher education is projected to grow by the end of the decade.
StudentTenant.com, however, believes that relying on private developers to tackle the accommodation crisis means that the new supply of beds will target the most affluent, rather than the majority of, students.
Danielle Cullen, the Managing Director of StudentTenant.com, says: "The emergence of luxury student accommodation isn't serving the majority of students. Whilst there is demand for this type of luxury accommodation, and a handful of students are willing to pay the higher prices, the new wave of housing is just too expensive for most.
"Students aren't asking for much when looking for somewhere to live. They just want somewhere with a decent sized bedroom, a double bed and good internet. They want affordable prices – they don't need dishwashers, en-suite bedrooms or even onsite gyms. We need to see development of affordable student housing in populated areas, offering a good quality of living, close to universities."
She continues: "Whilst the headlines in recent years have focused on the impact of £9,250 annual fees for degree courses, the cost of student accommodation has been soaring. This is thanks to a combination of factors; driven partly by universities, partly by developers and partly by students themselves.
"Plenty of universities, students and landlords are eager to point the finger at private developers when it comes to rising accommodation costs. When it comes down to it though, universities have allowed for the privatisation of accommodation. Universities have sold off old stock to investors, and have even invested the money themselves in less affordable accommodation, which has resulted in higher rental costs across the board."
She concludes: "If we really want to attract people into higher education, we can't turn student accommodation into a reserve for the wealthy."
If you're a student landlord, how are you responding to the accommodation crisis?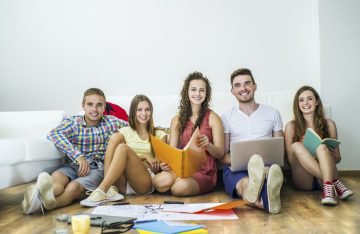 Students reliable…at paying bills
Surprising new research has indicated that students are the, 'most reliable tenants' for buy-to-let landlords. The National Landlords Association …