New research from online property portal Rightmove suggests that there are more properties available on the market in the UK rental sector. However, rents are continuing to increase.
Figures from the report suggest that supply outside of London rose by 7% during the second quarter of 2017, in comparison to the same period last year. In the capital supply actually increased by 8%.
Rental Rises
Despite the increased choice for would-be tenants, asking rents are continuing to increase – rising by 2.8% outside of London in comparison to the opening quarter of the year. Now, rents amount to £790 per month on average.
Inside of London, asking rents fell by 0.2% quarter-on-quarter, averaging at £1,934 per month. Rental prices here are now 3.2% lower than the peak of £2,020 per month at the same period on 2016.
Choices
Rightmove's data suggests that regions such as Ascot, Bath, Leeds and Birmingham offer some of the largest concentrations of available properties for tenants in Britain.
These findings were based upon regions with the highest number of available rental properties, as a proportion of total housing stock in these regions.
The figures can be seen in the table below: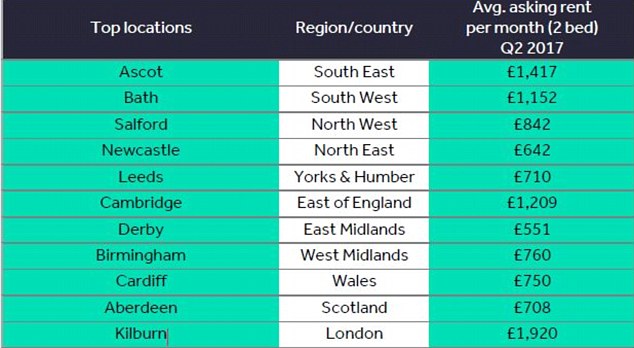 Best choice for renters by region (source: Rightmove)
An increase in choice has come as a slight surprise, given the recent tax changes set at deterring landlords from the sector.
Investment
Sam Mitchell, Head of Lettings at Rightmove, observed: 'Many thought that rental supply would constrict this year, as landlords sold up and looked to invest their money elsewhere, but clearly this isn't happening yet. Perhaps landlords are re-mortgaging their buy to let properties instead, as they still feel it's a better investment than looking to other industries.'[1]
'It could spell good news for tenants coming to the end of their lease as they might find there is slightly more choice than last year. Anyone hoping for a drop in prices due to the extra choice will be disappointed though as rents are following a very similar trend to previous years,' she concluded.[1]
[1] http://www.propertywire.com/news/uk/supply-rental-properties-rises-uk-rents-still-going/