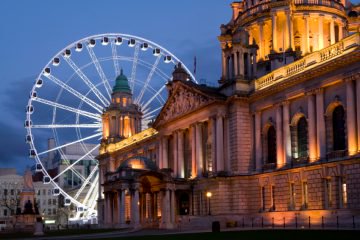 Belfast has been named the most affordable city in the UK for students to live and work in, according to the NatWest Student Living Index 2015. London came tenth in the study.
NatWest surveyed around 2,500 students to determine what they spend their money on. The research focused on four main areas: everyday essentials, socialising, sport and fitness, and hobbies and interests.
The study also found that students in Southampton earn the most term-time income and work the longest number of hours.
Despite Portsmouth being the most cost-effective place to socialise, students in Newcastle spend the most time socialising.
Dundee was in the top five cities where students spend the most on the following categories: groceries, netball and films. Students in Glasgow spend the most on fashion, alcohol and cigarettes.
Cardiff was the only Welsh city included in the survey and students here spend the most on hockey.
The top five most affordable student cities
Belfast – Students in Belfast spend the least amount on rent, just £46 per week compared to £112 in Oxford. Their groceries cost £16 per week, compared with around £30 in Dundee.
Southampton – Students in Southampton spend the most time working part-time jobs during term time, at seven hours per week. They study for just under 27 hours a week. In Southampton, students spend the least amount of time socialising, just ten hours per week.
Nottingham – Nottingham has the lowest weekly phone bill, at £4.83 a week. However, students in Nottingham spend £5.93 on football every week, behind just York and Liverpool.
Edinburgh – Edinburgh is fifth for students earning the most in term-time, at £42.96. Students in Edinburgh spend around 32 hours per week studying.
Manchester – Students in Manchester spend one of the smallest amounts on sport and fitness, but have the third highest term-time earnings of £45.97 a week. They also pay one of the lowest weekly rents, at £71.33.