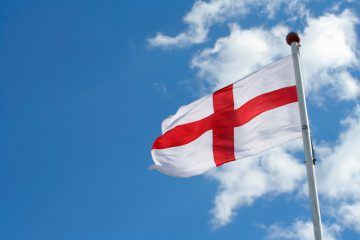 As it's St George's Day, what better time to look at how the property market in England differs to the other countries of our nation?
Although united as a nation, England, Wales, Scotland and Northern Ireland all have different patron saints, and very different housing markets.
While house price growth may not be the highest in England, values are. Prices are set to reach an all-time high in England, with the current average property costing £274,101, according to online estate agent eMoov. London remains the driving force in the market, however, reports suggest the capital is running out of steam. With London's sky-high prices and a property boom in Midlands, it is no wonder that England has the highest prices. In the past year, prices have risen by 2%.
In second place is Northern Ireland and its patron saint, St Patrick. Of all the four countries, Northern Ireland has recorded the greatest annual house price growth in the past year, of 4%. The average price across the Irish Sea is £183,505.
Recently, the Royal Institution of Chartered Surveyors revealed that Northern Ireland should be expecting a rise in property sales in the next three months, reflecting the strong performance seen in the first quarter of the year. Although the firm believes that a drop in house prices and sales will hit the UK, as the EU referendum approaches, it is thought that this won't affect Northern Ireland.
However, the forecast isn't so secure for St Andrew and St David, the patron saints of Scotland and Wales respectively. Both countries have experienced a significant decrease in house prices from 2015-2016. Scotland is still slightly ahead, with an average price of £168,683, compared with £165,077 in Wales.
Despite this, Scotland has recorded the greatest decline in prices over the last 12 months, down by 6%. Although there have been plans for major developments by European firms within Scotland, there are signs that projects are being put on hold as the UK faces the June vote.
And although Wales has seen a drop in house prices, of 1%, it is much smaller than Scotland's sharp fall.
The CEO of eMoov, Russell Quirk, says: "Although together we stand as one British nation, it's interesting to see how the property markets across England, Scotland, Wales and Northern Ireland differ. With London the jewel in Britain's property crown, England is always going to come out on top, but each country has its property pros and cons.
"It's also interesting how uncertainty in the current market, with the recent changes to Stamp Duty and the approaching EU referendum, seem to have impacted each market differently."
He explains: "Northern Ireland has enjoyed a stronger rate of growth than England, but Scotland seems to be suffering along with Wales, although the Welsh haven't seen a drop in values to the same extent as the Scottish."