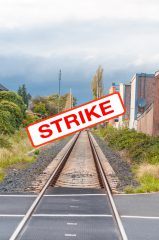 The Southern Rail strikes that have caused disruption for thousands of commuters have started to affect rent price growth across the South East, according to worrying new research.
The latest rental index from Landbay shows that price growth has slowed in five of the six key areas affected by the rail strikes.
The buy-to-let lender suggests that landlords in these locations may have had to limit rent rises or even cut prices in the second half of last year in order to meet dwindling levels of demand.
The report follows recent data that indicates the rail strikes have caused house price growth to fall in these areas too: /southern-rail-drama-house-price-slow/
The strikes, which are estimated to have hit hundreds of thousands of passengers, began last August. However, commuters using the Southern Rail service have been experiencing disruptions since July 2016.
Landbay's figures show that in Surrey, which is home to major Southern Rail stations, Dorking and Guildford – average rent price growth was -0.02% in the second half of 2016, down from +0.12% in the first half of the year.
Rental growth also slowed, albeit less dramatically, in East Sussex (from 0.26% to 0.15%), West Sussex (from 0.24% to 0.19%), Kent (from 0.27% to 0.19%) and Milton Keynes (from 0.34% to 0.17%) during the same period.
The only area affected by the rail strikes to record positive growth in the second half of last year was Brighton and Hove, where rent price growth increased marginally, from 0.24% to 0.26%.
Average rent prices across the whole of the South East rose by 0.21% over the six months from January to June, but slowed to 0.13% in July to December.
Consequently, only the North East and London are now showing slower rental growth over the past five years.
The Chief Executive and co-founder of Landbay, John Goodall, comments: "Rental prices along the Southern network haven't plummeted just yet, but these figures do suggest that it is beginning to have an impact on local property markets.
"While the strikes may have caused headaches for commuters across the network, the dwindling rents are a small positive for tenants. Whether the lower rental prices are worth the delays is a whole other story."
He adds: "With disruption expected to continue, people will begin to re-evaluate the criteria when it comes to renting – whether that be distance from London or reliable transport links."
Goodall says that his firm's research highlights the influence external factors have on the rental market. He points to previous reports that demonstrate the positive impact of infrastructure improvements on housing.
Have the rail strikes caused you to put your rents down?
Landbay has launched a Rent Check tool, which allows landlords and tenants to compare their own rent prices against properties with the same number of bedrooms in their area.