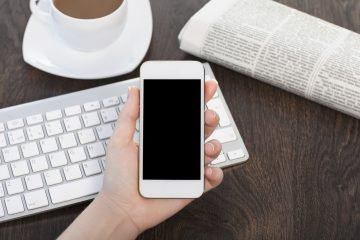 Finding a home can be a struggle, but a new app is designed to make it an easier journey. Users can now swipe through properties in a Tinder style on their smartphone or tablet.
Online property portals can be strewn with poor descriptions, amateur photographs and unrealistic details.
But the founders of Knocker, which is free from the App Store, are trying to use the aspiring buyer's imagination to support their search; similar to those looking for love on Tinder.
Tinder allows the user to swipe through photographs of potential partners; swipe left if they don't like them, right if they do.
Like Tinder, Knocker showcases the homes for sale or to rent close to the user. By using the user's location, all of the properties nearby that are listed on Zoopla will be easily accessible.
This could be as simple as strolling past a house for sale and loading the app to find details there and then. This will be useful for those visiting the area they would like to live in.
Through the app, browsers can pin properties they would like to save until later, share them via email and arrange a viewing. This is particularly helpful if buyers are looking in a hotspot area where homes are sold quickly.
Knocker currently uses property website Zoopla and there are no plans to expand this to other popular sites such as Rightmove.
House hunters will continue using the well-known property portals and the traditional methods of finding a home. However, Rightmove revealed that searching for a home on mobile phones has doubled recently, and smartphone and tablet browsing accounts for over half of its hits.
Two entrepreneurs in Manchester, Jon Grant and Sam Easterby-Smith, created Knocker. The current iOS system is being perfected before they release an Android version.
The app's lemon logo is designed to reflect the "refreshing way to search for property" that the app provides.
Grant talks of the comparison to Tinder: "It's always nice to get compared to something that big and we hope that people don't see it as a limitation.
"Tinder has been a huge influence on the process and we hope that the very simple approach to property search is something that resonates with users, both looking for somewhere to live, and of the nosey variety."
Recent research from Aviva reveals that people buying a home in the past year generally spent only 33 minutes viewing a property before purchasing. This could be down to people being full of knowledge of the house before looking around.
Those searching for a home, however, spend a long time looking every week.
Online estate agent Purple Bricks discovered that 20% of employees looking for a property spend over two hours every day looking at homes on websites as part of the selling and buying process.
Grant continues: "We've noticed people go and look at areas before conducting an online search. Knocker enables them to get fast answers and quickly understand whether something is in that neck of the woods that they can afford.
"It's also good when outside a house that has a for sale board outside. If you like the place, the first thing you think is, how much does that cost? Knocker gives you the answer."1
1 http://www.thisismoney.co.uk/money/mortgageshome/article-3086417/Would-swipe-property-love-Tinder-style-app-aims-dream-home-21st-Century-online-dating-style.html