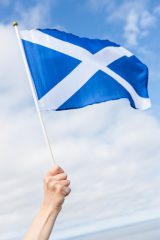 Rent prices in Scotland have dropped, according to recent research. However, the Scottish Government plans to go ahead with rent control plans.
The latest Citylets Quarterly Report reveals that rents have fallen from the peak recorded in the second quarter (Q2) of £762 per month, to £757.
The data shows that annual growth has also slowed, down from 5.4% at the end of Q2 to 2.9% at the end of Q3.
Aberdeen has experienced some of the greatest declines, with prices down 6.7% on this time last year, compared with a fall of 3.8% at the end of Q2.
However, in Edinburgh, the opposite is occurring. Rents in the capital city have now increased for ten consecutive quarters, with annual inflation now sitting at 7.5%.
The change in Aberdeen's prices may make the Scottish Government reconsider rent control plans for the city, says Citylets founder Thomas Ashdown.
He explains why: "By the start of 2016, it will be a fact that no rental property type in Aberdeen will have outperformed inflation since the onset of the credit crunch.
"I would go further to say that rents may even fall to the same levels as 2008-09, which would be a significant drop in real terms.
"It would seem that Aberdeen now represents a clear example of how the Scottish private rental sector can self-regulate.
"With so much concern in the investor community in relation to rent controls, the Scottish Government must surely want to consider whether the intended benefits outweigh the risks at this time."1
In Glasgow, rent prices are continuing to rise gradually, up 2.2% over the year. The annual pace of growth has slowed, however, down from 4.4% in the last quarter.
Positive annual increases were also recorded in Dundee, at 1.2%.
1 http://www.propertyindustryeye.com/scottish-rental-prices-fall-as-government-presses-ahead-with-rent-control-plans/