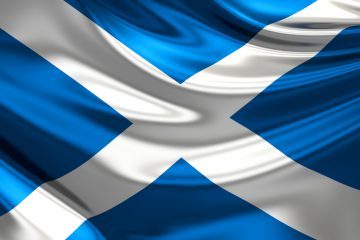 Scotland's uncertain future is shaking up the Scottish property market, according to an analysis by online estate agent eMoov.co.uk.
Given the Scottish National Party's (SNP) insistence on another independence referendum and the Prime Minister's equally strong insistence to not grant one, eMoov assessed Land Registry data from the time of the SNP's election win, the passing of the Scottish Referendum Act 2013, the referendum itself, the second passing of the Scottish Referendum Act and the present day, to see what impact the uncertainty of Scotland's future has had on the Scottish property market.
When the SNP came to power in May 2011, the average house price across Scotland actually dropped by 0.01%. Its promise of an independent Scotland then saw the market yo-yo and, over the following two years, the average Scottish house price fell by 0.14%, with 16 of the 24 months in this period recording a monthly decline.
When the Scottish Referendum Act was passed in June 2013, the rate of growth slowed, before falling again in September and October.
In April 2014, the Scottish property market enjoyed a healthy monthly increase of 2.33% but, with the referendum on the horizon, this rate of growth slowed over the next four months, before prices fell by 0.57% during the month of the vote itself.
Since the vote, Scottish property owners have seen an overall, if only marginal, lift in house prices. However, the further uncertainty of a second referendum is once again seeing price growth behave erratically month-to-month.
Nicola Sturgeon's announcement of a draft second referendum came in a month when price growth hit an average of 2.21%. Following her announcement, this monthly growth slowed to 0.71%, before falling gradually up until the second bill was announced in October 2016, when prices dropped by 0.89% in a month.
The Founder and CEO of eMoov, Russell Quirk, comments on the impact on the Scottish property market: "It is clear that should there be a vote for independence, the knock-on effect to the property market will be notable. Since the people of Scotland already voted no, house prices across the nation have seen an increase of 5%, but the mere action of a referendum vote has been enough to cause considerable turmoil. A vote to leave would make for very precarious times ahead, and it is in these times of unrest that employment and the wider economy suffer, with the result often being the repossession of homes and downward pressure on house prices.
"As we've seen with Brexit, the uncertainty of an outcome can cause just as much turbulence to the property market as the decision itself. It was a pretty close call last time around and so it's understandable that homeowners on both sides of the Scottish referendum coin would look to either hold off on or push through a sale, depending on their own preference. This out of the ordinary manipulation of the market on both sides is no doubt the most influential factor behind this market movement."
He adds: "It certainly doesn't help that once a decision has been reached, the SNP continues to stoke the fires of change with plans for a second vote. It's fair to say that the Brexit vote was more monumental and pivotal, but, despite this, the market south of the border has remained steady where price trends are concerned. Having weathered the storm, the initiation of Article 50 should see normality return to the property market in England and Wales, as it finally emerges from a tunnel that the Scottish market is, for the second time, just about to enter."