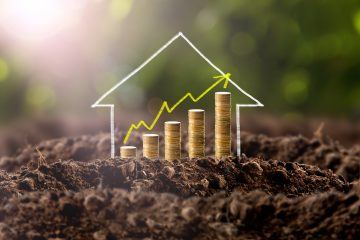 Rightmove has reported a new record for average house prices, as it sees the 'best ever spring sellers' market'.
The average house price in the UK was £354,564 in March 2022.
James Forrester, Managing Director of Barrows and Forrester, comments: "Since early 2020, an unrelenting level of homebuyer demand has fuelled a property market boom that shows no signs of slowing some two years down the line.
"Such sustained market conditions are quite phenomenal and as cliche as it sounds, there really never has been a better time to sell your house.
"To say homes are selling like hotcakes would be an understatement and with multiple buyers battling it out for every last scrap of property stock, sellers are achieving above and beyond their original price expectations."
Marc von Grundherr, Director of Benham and Reeves, comments: "As a nation, we've endured a prolonged period of economic instability due to the pandemic and yet more dark clouds are gathering due to the cost of living crisis. But despite this the UK property market remains a powerhouse of defiance, demonstrated by the fact that every region of the nation has reached record price highs in unison.
"Although London continues to trail where this asking price performance is concerned, we've already seen concrete signs that the market is starting to turn in 2022, putting a sluggish pandemic performance firmly behind us.
"It will, of course, take some time before this starts to filter through and bolster home seller confidence within the capital, but when it does, it won't be long before asking price expectations start to climb considerably. So while it very much remains a sellers' market across the board, now is the time to buy in London as property prices are only heading one way for the remainder of the year, at the very least."
Geoff Garrett, Director of Henry Dannell, comments: "There's no denying that the property market has performed impressively and with the cost of borrowing remaining favourable at present and buyer demand levels unlikely to subside, the short-term outlook remains positive.
"However, both buyers and sellers would be well advised to make hay while the sun is shining, as growing economic headwinds are likely to take their toll further down the line.
"While we don't expect to see market activity evaporate completely, the growing cost of living will be a significant factor in the months to come and as household finances are stretched, it's likely that prospective buyers will ease off on the sums they're willing to offer. As a result, sellers will need to realign themselves with these changing market conditions and this will cause the rate of house price growth to cool."
Chris Hodgkinson, Managing Director of HBB Solutions, comments: "The market is moving at an incredibly fast pace and this certainly favours the nation's home sellers who are spoilt for choice when it comes to the interest shown in their property.
"Despite these favourable conditions they are still advised to act with a level head and avoid getting swept up by this cyclone of market activity.
"The highest offer isn't always the best option and it's important to consider a buyer's position within the market, not just the money they're willing to pay. Failing to do so can see a sale collapse and unnecessary additional costs incurred."
Christina Melling, CEO of Stipendium, comments: "What we're currently seeing is a feeding frenzy from second and third rung buyers and it's this segment of the market that is driving the unsustainable levels of house price growth seen in recent months.
"Unfortunately, it's the nation's first-time buyers who are paying the price and those looking to take that first step are now paying £2,000 more for the pleasure compared to just one month ago. While this may not sound significant to those with the financial foundation of an existing property to fund their onward purchase, it's yet another brick in an already substantial financial wall that's blocking many from realising their dreams of homeownership."