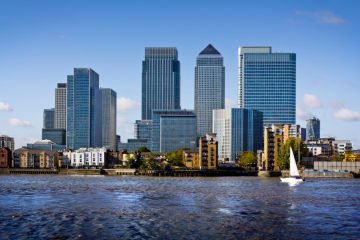 Finance experts have tackled the property portal world, after Rightmove announced record-breaking results earlier this week.
Read more about Rightmove's success here: /rightmove-announces-record-results-to-the-city/
Rightmove's results were higher than all broker expectations, with a 75.5% profit margin, 82% market share and growth of 2% in agent members.
In the Financial Times, Henry Mance writes: "Have estate agents shot themselves in the foot?
"Their launch of OnTheMarket [OTM] was meant to break the cosy duopoly of Rightmove and Zoopla that dominates Britain's market for online property ads. In fact, it may inadvertently be turning a duopoly into a monopoly.
"[Rightmove] now has 50% more listings than Zoopla. Its shares, already at skyscraper heights, added a storey."
He continues: "There may be a lesson here about first-move advantage: Rightmove grew steadily, before Zoopla was assembled from a jumble of assets by Ferrari-driving entrepreneur, Alex Chesterman.
"More broadly, recent history suggests it is hard to topple an internet business based on network effects, by trying to offer virtually the same thing. Just ask Microsoft how its search engine Bing is getting on against Google.
"OTM says it can still overtake Zoopla and then out-compete Rightmove on price. But if estate agents want to tackle Rightmove's pricing, they either have to offer something completely different – a Snapchat to Rightmove's Facebook – or wait for regulators to step in.
"Regulatory action, a distant prospect, becomes a tad more likely if Rightmove ends up a monopoly."
Mance concludes: "Perhaps that is OTM's real genius."1
Business and finance newspaper, City A.M.'s Russell Quirk made some predictions regarding OTM's future.
He believes that OTM will "fizzle out" before its first year, stating that it has "shouted from the rooftops" about its 5m visitors this month.
Quirk's firm, eMoov, is one of the agents banned from OTM.
He says that OTM has not had a significant impact on the market, whereas Rightmove and Zoopla go from "strength to strength."1 
Analysts have also given their opinions.
Finspreads' Fiona Cincottaa says that Rightmove's results indicate it "has not suffered the same fate as competition Zoopla, which in contrast has been negatively affected by the arrival of OTM."1 
William Packer, of Exane BNP Paribas, claims that Rightmove is "gaining traffic share from Zoopla."
He adds that in its post-results briefing to City analysts, Rightmove calculated that net membership movement from Zoopla has stopped, but it does not expect to witness any "rapid return" of OTM agents.
Packer has advised investors that there is "scope for Rightmove to expand their share of agent wallet."1 
1 http://www.propertyindustryeye.com/have-agents-shot-themselves-in-the-foot-over-otm-asks-financial-times/