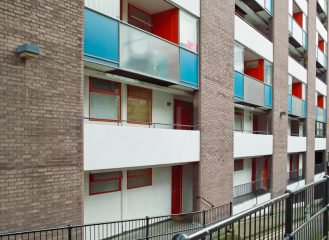 Almost 113,000 council homes could be sold off in England to finance the Government's Right to Buy scheme extension, according to a study by housing charity Shelter.
Under the proposal, councils must sell of their most expensive assets when they become vacant to fund the extension to 1.3m housing association tenants.
Shelter has analysed how many homes in each area would have to be sold if the thresholds for selling were set at the suggested level. If the prices were set at a regional level, expensive areas, like Oxford, could be set at the same thresholds as places such as Hastings, where property prices are much lower.
In London, it appears that one-bedroom properties worth over £340,000 would be sold, while in the North East, one-bed homes would be sold if they are worth more than £80,000.
In Kensington and Chelsea, Shelter found that 97% of council housing stock could be sold when it becomes vacant, almost half of all stock in Cambridge and a fifth of that in York.
Camden would also be one of the most affected areas, with over 11,700 homes potentially facing a forced sale – around half of the total council housing stock in the borough.
In total, Shelter estimates that 112,883 – around one in 14 (6.8%) – council homes in England could face a forced sale.
Its report states that a large number of housing association tenants could take advantage of the extension in the North East.
It says: "This will mean that housing subsidies flow from parts of the country where housing pressures are higher – like London, the South East and the East – to those where they are lower."1
The extension of the scheme was a major plan in the Conservative's general election manifesto.
Ministers claim that housing associations will be compensated with money raised by forcing local authorities to sell off their most expensive homes when they become vacant, ensuring that the affordable properties that are sold are replaced.
However, the proposal has been criticised by housing associations and opponents have questioned whether the homes that are sold off will actually be replaced.
Shelter says that even if the homes are sold, there could be a financial shortfall of £2.45 billion over four years.
Chief Executive of Shelter, Campbell Robb, says that selling off "large swathes of the few genuinely affordable homes we have left," would worsen the country's housing crisis.
He continues: "More and more families with barely a hope of ever affording a home of their own and who no longer have the option of social housing, will be forced into unstable and expensive private renting.
"The Government needs to scrap this proposal and start helping the millions of ordinary families struggling with sky-high housing costs."1 
Shelter used Government house price data and lettings figures to make its calculations.
1 http://www.theguardian.com/money/2015/sep/17/113000-council-homes-to-be-sold-to-pay-for-right-to-buy-shelter